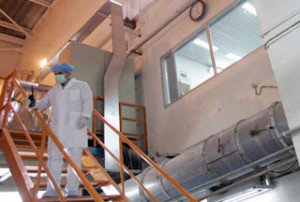 China says it will join a meeting with other permanent members of the UN Security Council and Germany in New York to discuss Iran's nuclear program.
Chinese Foreign Ministry Spokeswoman Jiang Yu says Beijing will hold "relevant discussions" with major world powers on Thursday to find a solution for the impasse over the Iranian nuclear drive.
She said China, a veto-wielding member of the Security Council, prefers a diplomatic solution to the issue.
"China still believes dialogue and consultation are the best way to solve the nuclear issue" Jiang added.
Washington has recently stepped up its efforts to push other key world powers into voting for new sanctions against the Islamic Republic at the Council.
However, China and Russia have repeatedly urged a diplomatic solution to the country's nuclear issue.
Tehran, as a signatory to the Nuclear Non-Proliferation Treaty, has repeatedly rejected accusations that its nuclear program is geared towards military applications, describing the allegations as "baseless" and "politically-motivated."
The UN nuclear watchdog has conducted countless unannounced inspections of Iranian nuclear sites and has found no evidence supporting Western claims.
Tehran has repeatedly declared that it will not relinquish its legitimate nuclear rights for peaceful use of nuclear energy under Washington and its allies' pressure.