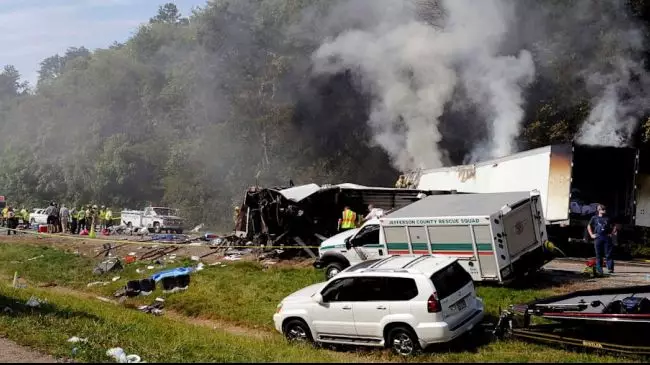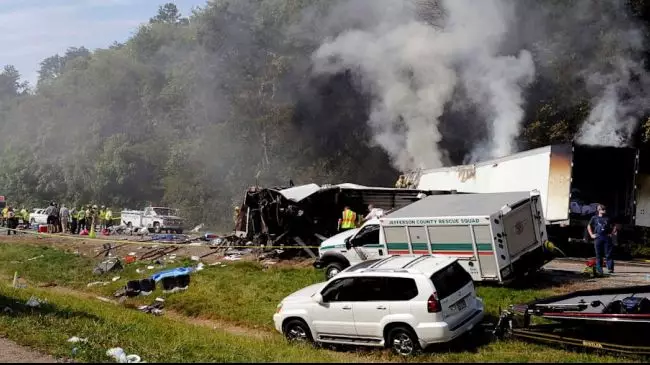 A bus taking a church group home to North Carolina overturned Wednesday after it blew a tire and crossed the median on a Tennessee interstate, crashing into a tractor-trailer and an SUV. The crash killed at least eight people, authorities said.
Six of the dead were among the passengers of the bus, one was the tractor-trailer driver, and the other was a person among the three in the SUV.
Fourteen other people were injured in the accident, including eight who were in critical condition, CBS News reported. But Fox News cited University of Tennessee Medical Center officials as saying that only two were in critical condition, seven in serious condition, and five in stable condition.
None of the victims had been identified.
Authorities said the bus burst into flames after it slammed into the tractor-trailer. Several hours after the crash, clouds of smoke still rose from the tractor-trailer and tree branches that lined the highway were charred, CBS News said.
The passengers of the bus were members of the Front Street Baptist Church in Statesville, N.C. The group of seniors had been to the 17th annual Fall Jubilee in Gatlinburg, Tenn., a three-day event featuring gospel singers and speakers.
"Our thoughts are with our friends at Front Street Baptist Church in their tragic loss. … all the Jubilee team have you in our prayers," said a banner which was posted on top of the Fall Jubilee website after the accident.