Latin America
Civil servants, police clash in Brazil's Rio over austerity plans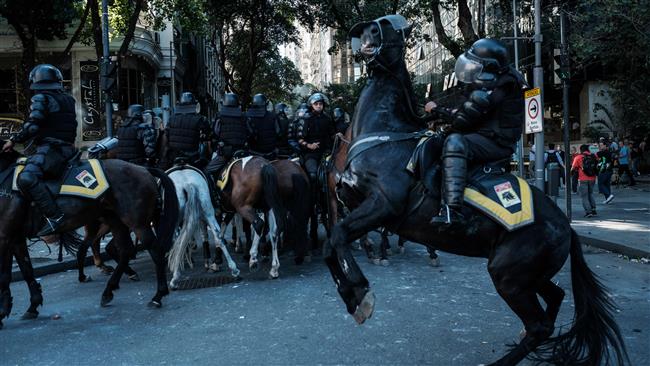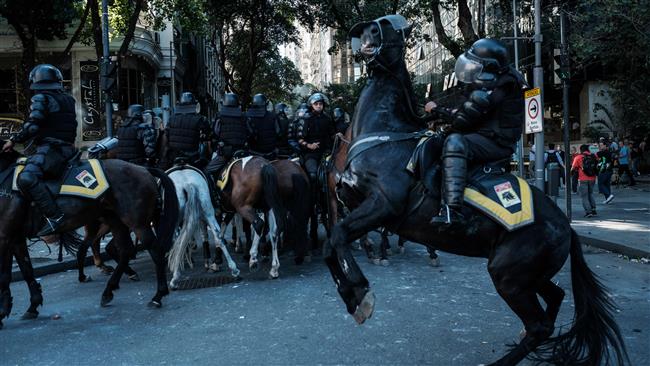 Hundreds of Brazilian civil servant protesters have engaged in violent clashes with police forces at a rally against proposed government austerity measures in the city of Rio de Janeiro.
A crowd of mainly civil servant workers marched on Rio de Janeiro's state legislature, throwing homemade grenades at the assembly building, where lawmakers were preparing to vote on new austerity measures.
Police used rubber bullets, smoke and flash grenades, and pepper spray to disperse the crowd.
The clashes lasted for nearly five hours in several blocks around the legislature. Witnesses said that, at one point during the scuffles, police officers entered a church to fire at protesters.
"Police entered the church and shot at people, and they also entered a parking lot and are throwing bombs at us from the roof," said Evaristo Santos, a protester.
Another protester alleged that police forces were shooting at people "indiscriminately."
The protesters were carrying placards reading "Temer Out," referring to Brazilian President Michel Temer. They set objects on fire on the streets.
Military police said in a statement that 11 officers were injured during the clashes. Reports also said an unspecified number of protesters had been injured, too.
Tear gas apparently also entered the state assembly. Local news portals published photos of a number of lawmakers wearing medical masks while sitting in the chamber.
State authorities in Rio have defended the proposed austerity measures as essential to manage the state's deteriorating financial crisis. Protesters, on the other hand, insist the measures would lead to wage and pension cuts, tax hikes, the suspension of social programs and the service pay adjustment.
The rallies came amid growing distrust of politicians in Latin America's largest country, where an extensive corruption probe has implicated several elected officials and high-ranking business executives.
Temer took office after former president Dilma Rousseff was forced to step down to undergo impeachement.
In Rio, however, such anger is further aggravated by the state government financial crisis. Thousands of state employees and retirees have not been getting paid or been paid months late.
"As you can see here in Brazil, we have thieves leaving government, thieves entering government, thieves in the state government, thieves in the federal government," said Ronaldo Moreno, a spokesman for the oil workers union in Rio.
"What is happening today is a fight by public workers, but it is a fight by everyone," he said.
Brazil is experiencing its worst recession in decades. Some people in the country are blaming the financial debacle on official corruption.