Saudi Arabia
Middle East
Yemen
Civilians killed in enemy of Islam Saudi regime's bombing of homes after retaliatory Yemeni strikes
Saudi warplanes have carried out fresh airstrikes on residential areas in different Yemeni provinces, hours after the Yemeni Armed Forces and allied fighters from Popular Committees launched a large-scale retaliatory military operation against oil storage facilities and strategically important targets deep inside the kingdom.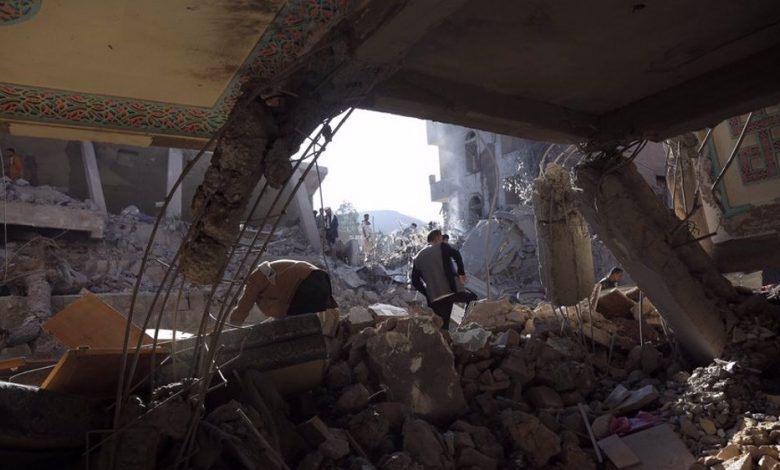 According to Yemen's al-Masirah television network, the Saudi warplanes bombed Hadda neighborhood, which lies in the Sanhan district and is located about 8 kilometers (nearly 5 miles) southwest of the capital Sana'a, on two occasions early on Saturday.
Local sources, speaking on condition of anonymity, said eight civilians were killed and four others wounded as a result of the aerial assaults. There were women and children among the casualties.
Saudi warplanes also launched two strikes on al-Haffa neighborhood, southeast of Sana'a, and several others against the premises of Yemen's leading national oil and gas company – Safer Exploration & Production Operations Co.
More airstrikes were conducted against the northwestern Yemeni province of Sa'ada as well as the western port city of Hudaydah.
Saudi fighter jets carried out an airstrike on Kahlan military camp east of the city of Sa'ada, and a raid on a gas station there. No immediate reports about possible casualties and the extent of damage caused were available.
Furthermore, the Saudi warplanes launched three raids on oil depots, in addition to three aerial attacks on a power distribution facility in Hudayah.
The Yemeni oil company (YOC) said in a statement that the oil storage facilities were empty as the tight Saudi-led blockade has prevented the entry of fuel and oil derivatives into conflict-plagued Yemen.
Journalist: Strikes aim to break Saudi-led siege
The editor-in-chief of Rai al-Youm news and opinion website described the retaliatory airstrikes "a new strategy by the Ansarullah movement to break the siege imposed by Saudi Arabia and its allies on the country."
"Yemeni strikes will have a negative impact on oil exports to Western consumers on one hand, and will increase oil prices on the other. This will have a bad impact on the world economy and will leave the war at the door of Saudis," Abdel Bari Atwan said.
He described Yemen war as a "major strategic mistake" that Saudi Arabia has trapped itself into, leaving more than 370,000 defenseless and innocent Yemeni people dead.
The distinguished Arab journalist went on to highlight that Saudi attacks have so far failed to bring the government of former Yemeni president Abd Rabbuh Mansour Hadi back to power, and that the Riyadh regime has so far failed to dictate its wishes on Ansarullah.
Atwan also predicted that retaliatory Yemeni missile and drone attacks against vital installations inside Saudi Arabia would continue, and will strike new targets.
Saudi Arabia launched the devastating war against Yemen in March 2015 in collaboration with a number of its allies and with arms and logistics support from the US and several Western states.
The objective was to bring back to power the former Riyadh-backed regime and crush the popular Ansarullah resistance movement, which has been running state affairs in the absence of an effective government in Yemen.
The war has stopped well short of all of its goals, despite killing hundreds of thousands of Yemenis and turning the entire country into the scene of the world's worst humanitarian crisis.