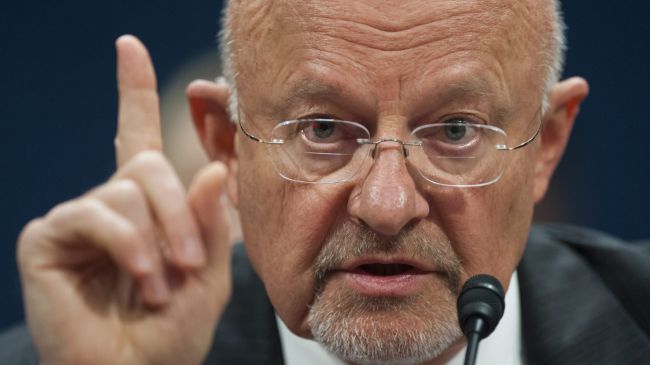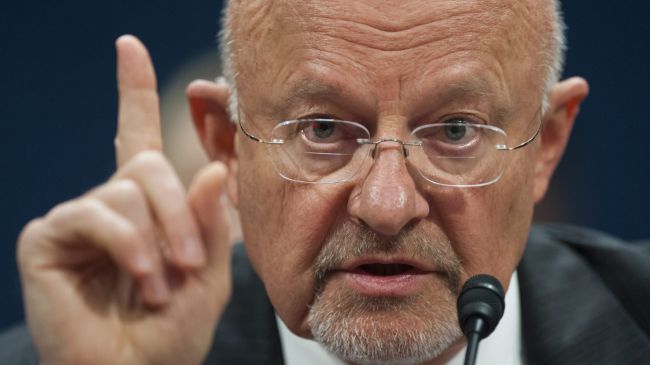 US spymaster James Clapper has said that learning foreign leaders' intentions is a "top tenet" of overseas surveillance operations.
"Leadership intentions is kind of a basic tenet of what we collect and analyze," Clapper told the House Intelligence Committee on Tuesday.
The Director of National Intelligence was reacting to growing international outrage over reports that the US National Intelligence Agency has been eavesdropping on leaders of other counties, including some of Washington's closest allies in Europe.
The spy chief, however, insisted that the United States did not "indiscriminately" spy on foreign leaders.
"We do not spy on anyone except for valid foreign intelligence purposes and we do not violate the law."
Clapper went out of his way to persuade the American public that the spying activities were lawful and necessary.
"We believe we have been lawful and that the rigorous oversight we've operated under has been effective," he said.
Also testifying before the congressional panel was NSA Director Gen. Keith Alexander, who struck a similar note in his testimony, saying the NSA's surveillance programs keep Americans safe.
"It is much more important for this county that we defend this country and take the beating than it for us to give up a program that would prevent this nation from being attacked," he said.
Gen. Alexander dismissed as "false" recent revelations and media reports in Germany, France, Italy, Spain and several Latin American countries about NSA snooping on their leaders.
The information "that lead people to believe that the NSA or United States collected that information is false, and it's false that it was collected on European citizens," he stated. "It was neither."
The hearing comes as the Obama administration has been bedeviled by recent revelations about the extent of US spying efforts.
The latest disclosures by former NSA contractor Edward Snowden, published by the Guardian, show the US monitored phone calls of 35 world leaders including that of German Chancellor Angela Merkel, one of Europe's most influential leaders.
German newspaper Bild am Sonntag reported that Gen. Alexander had briefed President Barack Obama in 2010 that Merkel's phone was being tapped.
"Obama did not halt the operation but rather let it continue," the paper said, citing a high-ranking NSA official.
As international and domestic pressure mounts, Obama has promised a "complete review" of overseas spying operations and has reportedly apologized to Merkel and the presidents of France and Brazil.
Germany and Brazil are currently spearheading efforts to draft a United Nations General Assembly resolution to restrain surveillance activities directed against foreign leaders.