Palestine
Clashes erupt in al-Khalil during zionist settlers' raid into the city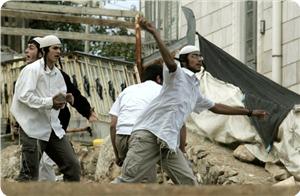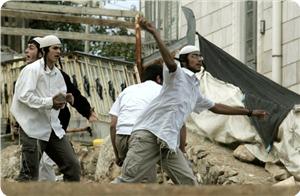 Clashes broke out on Tuesday night between Palestinian youths and zionist Israeli settlers who raided the center of the city of al-Khalil to perform Talmudic rituals at one of the graves.
Palestinian security sources told Quds Press that the zionist settlers entered the B'ir al-Sabe' Street in the center of the city of al-Khalil to visit the tomb of "Atnaúal", which Jews consider a Jewish shrine.
The sources pointed out that the clashes broke out in the area of ​​Bab Zawiya between zionist settlers, protected by Israeli forces, and Palestinian youths who pelted the Israelis with stones in rejection of the raid into their city.
Another group of settlers from Kiryat Arba uprooted 150 seedlings owned by the citizen Atta Jaber, after attacking him and his family members.
Meanwhile, the occupation forces demolished on Tuesday in the town of Yatta, in the southern West Bank district of al-Khalil, a Palestinian agricultural facility owned by the citizen Fadl Khatib, then arrested his two sons, Rateb Jabour coordinator of the Popular Committee against settlement in Yatta said.
Jabour stated that the soldiers stormed the town of Yatta on more than 25 military vehicles and searched citizens' houses. They were also accompanied by a bulldozer that launched excavations in the region.
Aroub refugee camp north of al-Khalil has also witnessed violent clashes at dawn Tuesday, after Israeli forces stormed the area.
Eyewitnesses told PIC that the soldiers fired tear gas canisters and metal bullets towards Palestinian houses and dozens of young men who responded by throwing stones and Molotov cocktails at the occupation forces.
They added that the citizens suffered suffocation due to gas inhalation during the clashes that lasted until the morning hours.