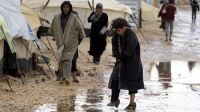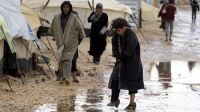 Jordanian security forces have fired teargas to disperse Syrian refugees protesting poor living and health conditions at a camp in northern Jordan.
According to IRIB, the Jordanian police claimed that seven aid workers were injured when they were attacked by dozens of angry refugees with sticks and stones while distributing bread for breakfast in the Zaatari camp on Tuesday.
The police further claimed that the clashes started after the Syrian refugees, who were frustrated because cold winds had swept away their tents and torrential rains had flooded muddy streets, tried to attack the storehouse of a charity center, which was distributing aid.
Frequent protests over poor living conditions have occurred at the Zaatari camp since it opened in July last year.
The Zaatari camp houses nearly 50,000 refugees.
Last Sunday, the refugees in Zaatari also fought over tents being distributed at the camp.
On January 11, the Office of the United Nations High Commissioner for Refugees (UNHCR) also announced that a total of 612,134 Syrians had been registered or were in the process of being registered as refugees in neighboring countries and North Africa.