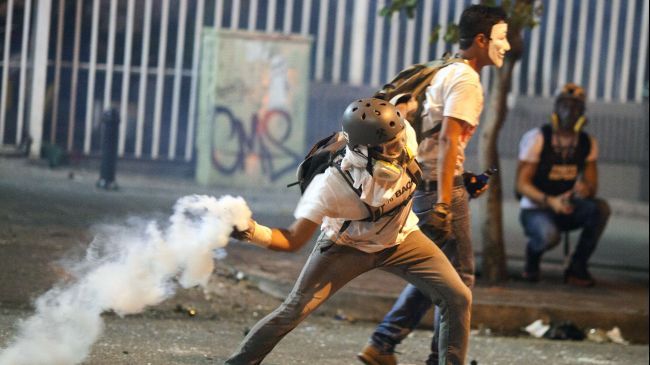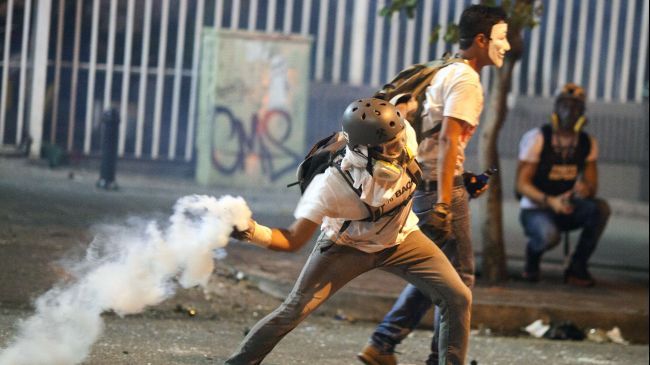 Masked protesters have clashed with police in the Venezuelan capital, Caracas, during a march to mark three months of street protests against the administration of President Nicolas Maduro.
On Tuesday, protesters tried to block a main highway in the city during a march on a restricted zone where demonstrations are not permitted.
Police responded by firing tear gas and rubber bullets to disperse the crowd.
Venezuelan authorities said protesters did not have permission to stage the march through the capital.
In addition to marking three months of protests, the demonstrators also demanded the release of student protesters who have been arrested during that time.
The Monday clashes came a day after Venezuelan authorities released most of the 240 protesters detained last week, when security forces dismantled four makeshift protest camps in the capital.
Venezuela has witnessed protests against and in support of the Maduro administration since February.
The protests have lost momentum since April 7, when the government and opposition leaders held talks for the first time to end tensions.
Opponents against the government has criticized the Maduro administration for the country's high crime rate, as Venezuela ranks as one of the most violence-stricken countries in the world, with an average of 71 murders every day.
In addition, opponents have criticized the government for the economic hardships, claiming that his policies have led to a shortage of essential goods and high inflation.
Last year, Venezuela's inflation soared to 56.2 percent, which was almost three times higher than the rate of 20.1 percent registered in 2012.
Maduro has deplored the violence, saying the United States is backing the opposition to launch a coup d'état in the South American country.
Venezuelan security forces recently arrested nearly 60 foreigners accused of sparking anti-government protests.
The arrested foreigners included Colombians, an American, a Spaniard and an Arab, the Venezuelan Interior Ministry stated on May 2.