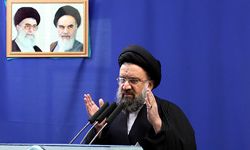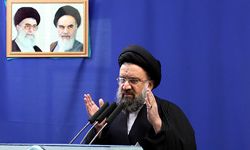 Tehran's provisional Friday Prayers Leader Ayatollah Ahmad Khatami took the arrogant powers responsible for the death of innocent people in recent attacks in Iraq and Syria, saying that these terrorists operations are staged in the two Muslim states because they have independent governments.
Addressing a large and fervent congregation of worshipers here in Tehran on Friday, Ayatollah Khatami condemned use of chemical weapons by terrorists in Syria.
"The global arrogance equipped the terrorists in Syria with chemical weapons which resulted in death and injury of tens of innocent Syrian citizens in the Muslim country," he stated.
He noted that Syria is presently in the front line and if the arrogant powers succeed in the country to achieve their goals, it will be Iraq's turn next.
"There are currently two independent governments in power in these two countries (Syria and Iraq) and the arrogant powers want two subservient governments and they commit crimes accordingly in these two countries."
On Tuesday, terrorists fired a rocket containing chemical substances in the Khan al-Assal area of rural Aleppo and reports indicate that around 25 people were killed, most of them civilians.
Also on Wednesday, Syria has asked for an independent investigation into the use of chemical weapons by militants in Aleppo.
Later, UN Secretary-General Ban Ki-moon announced the decision for conducting an independent investigation into the terrorist chemical attack.
"I have decided to conduct a United Nations investigation into the possible use of chemical weapons in Syria," Ban told reporters in his office on Thursday, adding that "I intend for this investigation to start as soon as practically possible."
The chemical attack came after a video footage posted on the internet late in January showed that the armed militants in Syria possessed canisters containing chemical substances.
The foreign-sponsored militants had earlier released footage in which rabbits were killed by inhaling poisonous gas.