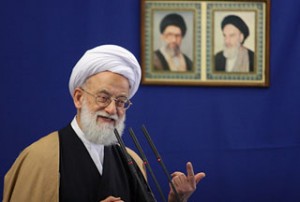 A leading Iranian cleric has warned against moves leading to the creation of disorder in the country and called on all Iranians to exercise calm.
"Do not cause tension. You should keep calm," said Tehran's Interim Friday Prayers Leader Ayatollah Mohammad Emami-Kashani, addressing those who disturbed peace in the country.
He pointed to post-election events in Iran and said, "Such incidents take place in every part of the world…. After [Iran's June presidential election] some people carried out inappropriate acts and chanted slogans."
He said the protests that started in the wake of the presidential election would eventually benefit the enemy.
The cleric called on Iranians to remain vigilant in the face of the plots hatched by the enemy who seeks to take advantage of the objections voiced about the country's presidential election.
He strongly criticized the desecration of a portrait of the late founder of the Islamic Revolution Ayatollah Rouhollah Khomeini during anti-government protests in Tehran.
Iranians reacted with shock to TV footage of a torn-up poster of the much-revered Imam Khomeini, during Student Day demonstrations in Tehran on December 7.
The move was instantly condemned by leading political figures, all of whom urged the Judiciary to find the culprits behind the outrageous act and bring them to justice.
Ayatollah Kashani called on Iranian authorities to prevent radical moves which he said would merely trigger new tension in the country.
He said that all political groups should follow to the guidelines of the Leader of Ummah Imam Ali Khamenei to resolve disputes and promote unity.