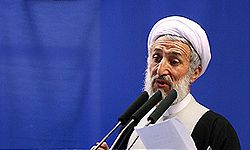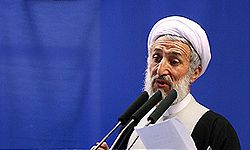 Tehran's provisional Friday Prayers Leader Kazzem Sediqi underlined the Iranian nation's determination to move ahead on the path of progress, and stressed that the country will never surrender to the West's pressures and threats.
Iranian nation are familiar with the tone and literature of arrogant powers and never give up by repeated threats such as tough sanctions or war, Kazzem Sediqi said, addressing thousands of worshippers on Tehran University Campus on Friday.
You (the West) have once before tested the Iranian nation during the 1980-88 Iraqi imposed war against Iran and found out that they never give up under any circumstances, he stated.
The Iranian nation will thwart these sanctions under the wise leadership of their Supreme Leader, the cleric noted.
After the EU decided to comply with the US policies and ratified an oil sanction against Tehran, Iran downplayed the effects of the western countries' new move, and said the European countries are the real loser of their dangerous oil game with Tehran.
After the EU oil ban against Iran, members of the Iranian parliament finalized a draft bill on cutting the country's oil exports to the European states in retaliation for the EU move.
"The bill has 4 articles, including one which states that the Islamic Republic of Iran will cut all oil exports to the European states until they end their oil sanctions against the country," Vice-Chairman of the parliament's Energy Commission Nasser Soudani told FNA at the time.
Elaborating on the other parts of the draft bill, he said another article requires the government to stop imports of goods from those countries which are a party to these sanctions against Iran.