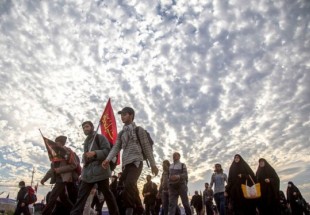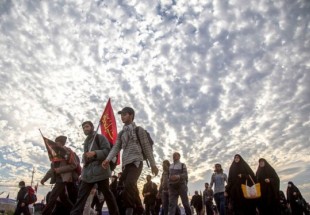 Senior Iranian scholar has lauded Arbaeen ceremony as peak of solidarity and friendly relationship between Iranian and Iraqi nations.
Hujjat-ul-Islam Ali Karimian, head of Islamic Radios and Televisions Union (IRTVU), attended the second media conference on Arbaeen and lauded the ceremony as an unparalleled event in the world warning against enemies in pursuit of undermining the unity between Iranian and Iraqi nations, reported Taqrib News Agency (TNA).
He said."Nowhere in the world can you find hospitality and sympathy for other people to warmly welcome pilgrims to your home as the Iraqi people do" warning," That is the reason enemies are in ambush for an opportunity to divide the Iranian and Iraqi nations and undermine their friendly ties.
The cleric referred to hostile efforts to exaggerate the economic issues in order to undermine the glory of the massive ceremony, Arbeen.
"US-led world of arrogant powers are pursuing ways to severe the friendly ties between Iranian and Iraqi government by dividing the two nations" he said.
The cleric stressed that the recent incidents in Iraq has proved the nation as the victorious and arrogant powers as the desperate side of the struggle.
According to the cleric world media are seeking ways to ignore the great ceremony in an effort to exaggerate the economic weaknesses.
Millions of Muslims head for the Iraqi holy city of Karbala in late October to attend Arbaeen ceremonies marking the 40th day after martyrdom of Imam Hussein (AS), third Imam and grandson of Prophet Mohammad (PBUH) who rose against the tyrant ruler of his time Yazid ibn Muawiya back in 680 AD.