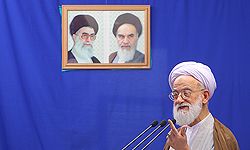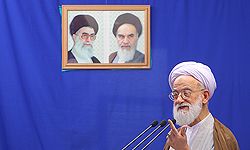 Tehran's provisional Friday Prayers Leader Ayatollah Mohammad Emami Kashani said the Islamic Awakening movement, which has swept the region since 2011, has unified Muslim nations.
The Islamic awakening brings unity and solitary to world Muslims, Ayatollah Kashani said, addressing a large congregation of worshippers on Tehran University Campus here in Tehran on Friday.
He called on the true believers to continue their spiritual and material supports for the movement.
Material supports refer to scientific advancement as well as the technological developments the western states are trying to hold as their monopoly, Ayatollah Kashani stated.
Earlier this month, Supreme Leader of the Islamic Revolution Ayatollah Seyed Ali Khamenei once again underscored that Islam was the main force behind the recent popular uprisings in the region.
"We believe that the current huge movement is a real Islamic Awakening (movement) and will spread and grow and won't be derailed so easily," Ayatollah Khamenei said, addressing participants in the International Conference of Muslim Scholars and Islamic Awakening here in Tehran at the time.
"People's Islamic slogans in the regional revolutions and the role played by Muslim believers in encouraging massive rallies and overthrowing corrupt regimes altogether signify that the movement is Islamic."
The Leader further said that people's yes vote to Islamist parties in the recent elections was another indication of the Islamic identity of the recent uprisings.
Ayatollah Khamenei expressed confidence that if free and fair elections are held in other Islamic states and if Islamist politicians become a candidate in such elections, people will not doubt vote for Islamists.
Since the start of 2011, the region has witnessed a growing wave of popular protests resulted from the people's growing awareness and vigilance.
Tunisia saw the overthrow of Zine El Abidine Ben Ali in a popular revolution in January, which was soon followed by a revolution which toppled Hosni Mubarak in Egypt in February.
Bahrain, Jordan, Kuwait, Saudi Arabia, Yemen and Libya have since been the scene of protests against their totalitarian rulers, who have resorted to brutal crackdown on demonstrations to silence their critics.
While Libya celebrated the victory of its revolution after the death of the country's dictator, Muammar Qaddafi, in October 2011, uprisings continue in several other Muslim states.