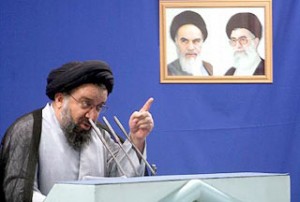 A senior Iranian cleric has warned against enemy plots and called on countries that claim to seek the establishment of ties with Iran to remain vigilant.
"These countries should know that it will be in their favor to establish cordial ties with the Iranian nation. They should be cautious not to be drawn into the camp of Iran's enemies," the Islamic Republic News Agency (IRNA) quoted Tehran's Interim Friday Prayers Leader Seyyed Ahmad Khatami as saying.
He pointed to the West standoff over Iran's nuclear energy program, saying, "As we have repeatedly announced, enemies should know that the Iranian nation considers the country's nuclear case closed."
"The Iranian nation will never give up its right to develop nuclear energy one iota," he added.
The cleric said the row over Iran's nuclear program was "a test to distinguish friends from foes."
"It added dark pages to the history of the US and Britain in the mind of the Iranian nation," Khatami said.
He underlined that Iranians have now become more familiar with the "vicious plans" of countries like the US and Britain.
Washington and its allies accuse the Islamic Republic of pursuing a military nuclear program. However, the International Atomic Energy Agency (IAEA) has repeatedly said that it has found no evidence supporting the allegation.
The IAEA has conducted numerous inspections of Iran's nuclear facilities, confirming the non-diversion of nuclear material in the country's functional and under-construction plants.
Tehran says as a signatory to the Nuclear Non-Proliferation Treaty it is entitled to the peaceful application of nuclear energy.
Amid tension in ties between Iran and Britain, Iranian Foreign Minister Manouchehr Mottaki said on Monday that Tehran is considering whether to downgrade relations with Britain in 12 working fields.
"Iran has carried out a thorough study on its relations with Britain in different fields particularly over the past six months. We are currently reviewing each 10-12 working fields between Iran and the UK," Mottaki said.