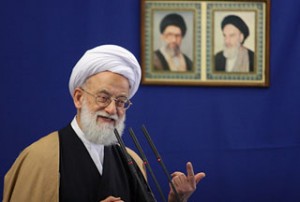 Tehran's Substitute Friday Prayers Leader Ayatollah Mohammad Emami Kashani condemned some western countries' allegations regarding Iran's attempt to access nuclear weapons.
Addressing worshippers in Tehran University campus, Emami Kashani termed such claims as a big lie, saying that they were trying to interpret Iran's most peaceful nuclear activities as efforts to build nuclear weapons.
Elsewhere in his remarks, Emami Khashani condemned the arrest of Iranian TV correspondent in Rome by Italian government and described it as a token of west's double-standard policies.
Hamid Masoumi-Nejad, an accredited journalist working for IRIB in Rome was arrested last week under allegations of selling arms to Iran in violation of international sanctions.
Referring to the arrest of PJAK terrorist group ringleader Abdolrahman Haji Ahmadi by German security forces, the cleric said that besides committing clear crimes against the Iranian people in northwestern border area, Haji Ahmadi was released just within 24 hours.
"Whereas Italy has kept in detention a person who has been working just as journalist for an Iranian TV channel for over 17 years," Emami Khashani added.
He also noted that all these behaviors just show the Western countries' double standard policy against global terrorism.