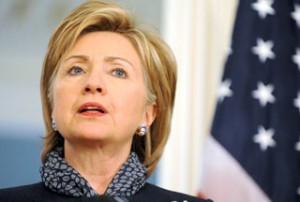 Secretary of State Hillary Clinton says the US is still waiting for Iran to respond to its offer of talks despite the post-election developments in the Islamic Republic.
Clinton stressed that Washington seeks to engage Tehran but Iran "does not have any capacity to make that kind of decision right now".
"We haven't had any response," Clinton told the BBC on Thursday.
Clinton says both she and US President Barack Obama believe that direct dialogue with Iran would guarantee success.
"We've certainly reached out and made it clear that's what we'd be willing to do, even now, despite our absolute condemnation of what they've done in the [12 June presidential] election and since but I don't think they have any capacity to make that kind of decision right now," Clinton said.
Iran turned into a scene of opposition rallies after the re-election of President Mahmoud Ahmadinejad with nearly two-thirds of the vote.
Ahmadinejad's rivals — Mir-Hossein Mousavi and Mehdi Karroubi — reject the vote result as fraudulent and refuse to acknowledge the Iranian president's re-election.
On Wednesday, Clinton also warned that the US would consider establishing a "defense umbrella" in cooperation with its Persian Gulf allies should Iran refrain from abandoning its nuclear activities.
The warning by the secretary of state that the US would militarily aid Iran's neighboring Arab countries comes as President Obama has vowed to engage the Islamic Republic in direct diplomacy in order to resolve the country's nuclear dispute.
The US and its European allies accuse the Tehran government of conducting clandestine efforts to obtain nuclear weaponry.
Iran says its nuclear activities are in line with its rights under the nuclear Non-Proliferation Treaty (NPT) and are aimed at the civilian applications of the technology.