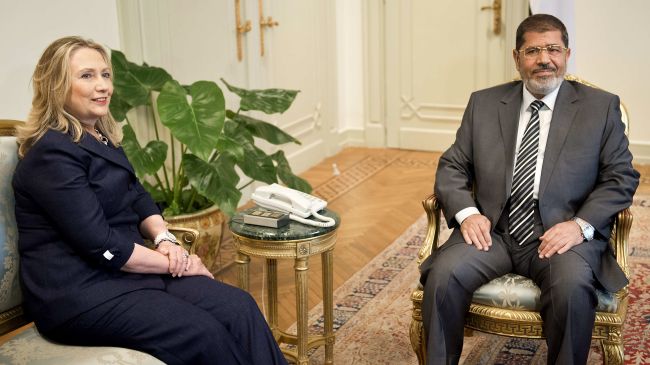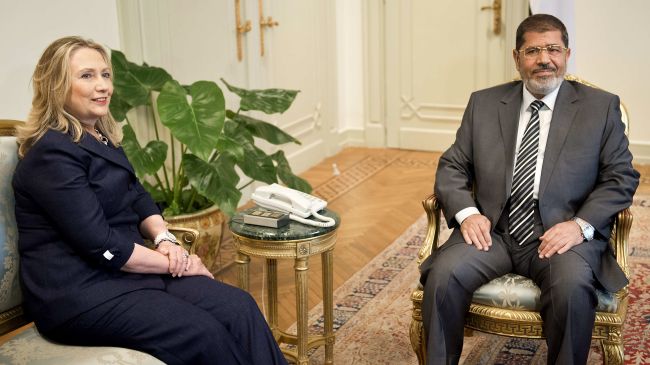 US Secretary of State Hillary Clinton has held a meeting with Egyptian President Mohamed Morsi in Cairo and is also scheduled to hold talks with the head of the country's military.
Clinton met with Egypt's newly elected president at the presidential palace in the upscale suburb of Heliopolis, soon after arriving in Cairo on Saturday.
Clinton, the most senior US official to meet Morsi since he took office two weeks ago, is also scheduled to meet Field Marshall Hussein Tantawi during her two-day visit.
Tantawi is the leader of the Supreme Council of the Armed Forces (SCAF), which took power after the downfall of Egypt's longtime dictator Hosni Mubarak in February 2011.
Washington, which threw its weight behind the Mubarak regime for over three decades, now claims to support Egypt's transition to democracy.
Over the past week, Egyptians have poured onto the streets of Cairo in their thousands to express solidarity with Morsi in his first showdown with the country's powerful military.
Last week, Morsi ordered the parliament to reconvene, in defiance of a ruling by the Supreme Constitutional Court which dissolved the legislature prior to the June presidential election.
Under a constitutional declaration issued on June 17, the military assumed legislative powers and control over the country's budget.
Morsi ordered the dissolved parliament to resume its legislative activities and also called for new parliamentary elections to be held within 60 days of the ratification of the new constitution.
However, the high court overturned Morsi's decree, ruling that its decision was 'binding' and could not be challenged.
Egyptian pundits say the military and the high court are trying to undermine the powers of the new president in order to hang on to power.