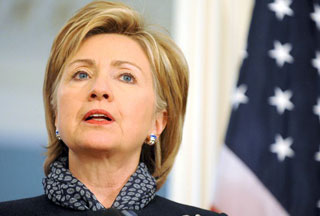 US Secretary of State Hillary Clinton floats the idea that North Korea may be attempting to provide Myanmar with nuclear weapons production capabilities.
Clinton arrived in Thailand on Tuesday to attend a regional security summit in Southeast Asia, bringing with her a message of warning: arms trade between the two socialist nations could be devastating.
The US secretary of state hinted at a recent episode in which a North Korean freighter with a suspected arms cargo set out on a mission to an "undisclosed destination".
"We know that there are also growing concerns about military cooperation between North Korea and Burma, which we take very seriously," said the top US diplomat.
Burma is the colonial name that was given to Myanmar under British rule. The name was changed in 1989 after an army general seized power in the second coup that followed the 1962 overthrow of a civilian government.
"It would be destabilizing for the region," Clinton claimed. "It would pose a direct threat to Burma's neighbors. And it is something, as a treaty ally of Thailand, that we are taking very seriously."
US officials fear that North Korea might be seeking to provide weapons-grade nuclear material to the socialist military government in Myanmar in response to the UN imposition of sanctions on Pyongyang over its May nuclear tests.
"We think that there is a different path for North Korea to follow, that there is an opportunity which is theirs for the taking, but they have to be willing to change their behavior and agree to denuclearize North Korea," Clinton continued.
The US secretary of state, who is due to sign a non-aggression treaty at the summit of Association of Southeast Asian Nations (ASEAN) in Phuket, Thailand, also took a swipe at Myanmar for its poor human rights records and its attempts to suppress democracy.