Turkey
Middle East
North America
Close allies Biden, Erdogan hold first meeting
US President Joe Biden and his Turkish counterpart, Recep Tayyip Erdogan, have held their first face-to-face meeting amid a history of soured ties over a host of controversial issues that have remained unresolved.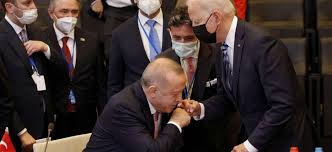 Both leaders have expressed satisfaction with their talks.
The meeting took place on the sidelines of the NATO summit at the headquarters of the Western military alliance in Brussels on Monday amid strained relations between Washington and Ankara.
Speaking at a news conference after the meeting, Biden said, "We had a positive and productive meeting, much of it one-on-one."
"Our teams are going to continue our discussions and I'm confident we'll make real progress with Turkey and the United States," he added.
Similarly, Erdogan called his talks with Biden "productive and sincere," noting that "there is a strong will to start an efficient cooperation period based on mutual respect in every area."
"We think that there are no issues between US and Turkey relationship that are unsolvable and that areas of cooperation for us are richer and larger than problems," he emphasized