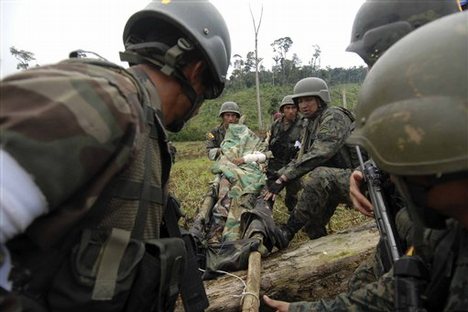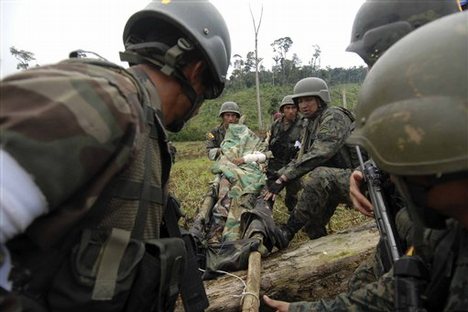 Colombia and Ecuador have agreed to fully resume diplomatic ties that were severed over two years ago following a raid by Colombia on Ecuador's soil.
"We've decided to fully re-establish our relations. I celebrate this very important step for our peoples," Colombian President Juan Manuel Santos said.
He made the announcement on Friday in Georgetown, Guyana at a summit of the Union of South American Nations (UNASUR).
In March 2008 Colombian forces launched an attack on FARC rebels killing 25 including the group's second-in-command Raul Reyes.
Relations between the two neighbors have warmed considerably since the election of President Santos.
"I have to recognize the transparency and goodwill of Santos for responding to sensitive issues presented by Ecuador. We've started to move in the right direction," Ecuador's President Rafael Correa was quoted by al-Jazeera as saying.
"Without forgetting the past, which we cannot and should not erase, we have to look to the future and for the good of our people we must totally … restore diplomatic relations," Correa said in an interview with television network Telesur.
The Colombian president has also made efforts to restore ties with its eastern neighbor Venezuela.
On Friday Venezuela announced plans to restart fuel shipments to the Colombian state of Norte de Santander, in a sign of the warming ties.
Former Brazilian president, Luiz Inacio Lula da Silva, described the new friendship between former ideological foes Santos and Chavez as a "political miracle."