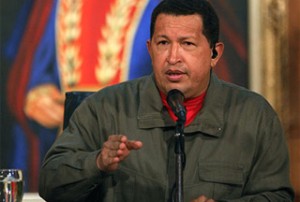 Colombia has reported Venezuela to the United Nations Security Council for what it describes as the country's "war threats" against the Andean nation.
Caracas and Bogota have stepped up their rhetoric against each other following the latter's move to sign a defense accord with the US that would give Washington access to military bases in Colombia.
Colombia's UN ambassador, Claudia Blum, submitted a "diplomatic note regarding the threats by Venezuela of use of force against Colombia," the foreign ministry said in a statement on Wednesday, according to AFP.
Colombia alleges that the Venezuelan President Hugo Chavez's Sunday remarks were provocative as he called on the Venezuelan army and people to make themselves ready for a war.
Chavez, however, said Wednesday at a public event that his statements had been exaggerated by the media.
"The Venezuelan military is pacifist and we prepare for war precisely to ensure there is peace. That's what I said," he emphasized.
Most Latin American countries, including Venezuela, Bolivia and Ecuador view the US military presence in Colombia as a direct threat to the peace and stability in the region.
Washington and Bogota claim that their defense agreement is aimed at regional narcoterrorism.
The Venezuelan leader says the US military presence only unleashes the "winds of war."