Human Rights
North America
Colombians protest against government, police brutality
Workers and students in major Colombian cities have staged protests against the social and economic policies of President Ivan Duque and police brutality in the Latin American country.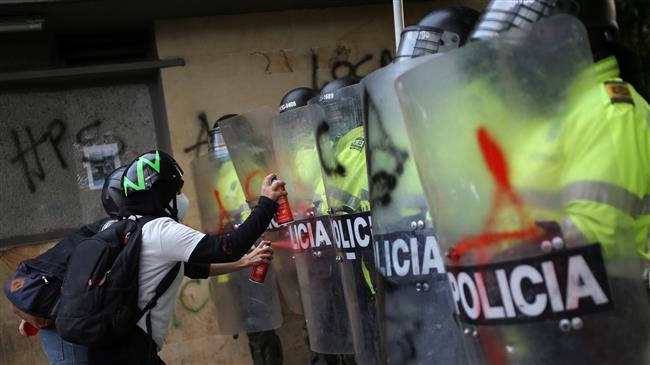 The nationwide and largely peaceful protest rallies were held on Monday in the form of a morning caravan of bicycles, motorcycles, and automobiles driving to the ministry of labor in the capital of Bogota in compliance with COVID-19 social distancing restrictions.
Similar demonstrations also took place in Medellin, Barranquilla, and Cali, among other cities across the country, with people also voicing their anger at the killing of indigenous leaders and ex-members of the country's Revolutionary Armed Forces of Colombia (FARC) despite a 2016 peace accord between the group and the central government.
However, an afternoon protest rally of hundreds in Bogota's central Bolivar Plaza turned violent, with some protesters throwing rocks at police officers outside the seat of the country's top courts.
The development followed the brutal killing of a man who was detained and repeatedly stun-gunned by police officers earlier this month. His death led to nights of protest rallies in Bogota and the suburban city of Soacha, leaving 13 people dead and hundreds injured.
Union and student leaders expressed optimism that the Monday protests would revive widespread rallies that took place late last year.
Isolated looting led to the first curfew declarations in a generation in Bogota and Cali, but demonstrations fizzled ahead of the Christmas holidays.
Moreover, Senator Gustavo Petro of the Colombia Humana political party and a former FARC member called on Colombians on Monday to use non-violent protests to "reclaim" and "transform our country's history."
"Since Ivan Duque assumed the presidency, and uribism returned to power, the country has been devastated by the return to war in the territories, in which 177 individuals, social leaders, and human rights defenders have been killed, as well as 148 ex-combatants involved in the reincorporation process, and in 2020 alone we've seen 56 massacres that have cast a shadow over our peoples," he said.
Earlier this year, the coronavirus thwarted plans to resume protest rallies, since more than 765,000 Colombians have so far been infected and more than 24,000 lost their lives. The country gradually loosened lockdown measures between March and the end of August.
Recent marches in Bogota against police brutality have been met with extreme use of force by state security agents, leaving over a dozen dead and hundreds injured.
Urban unemployment in Colombia has surged to nearly 25 percent due to the coronavirus lockdown and the government predicts an economic contraction of 5.5 percent this year.