Iran
Middle East
Qasem Suleimani
Commander: Enemies More Terrified of Iranian Nation than Arms
Commander of the Iranian Army's Ground Force Brigadier General Kioumars Heidari said that enemies are more scared of the Iranian nation than the country's arms and military power.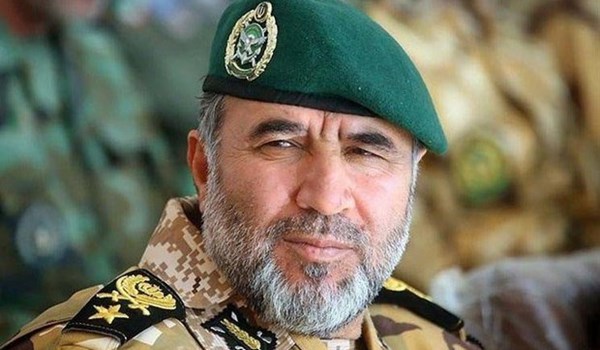 "What scares the enemies of the Islamic Republic more than its military force, is the great Iranian nation and its presence and support for the establishment," General Heidari said.
He, meantime, said that the arrogant powers are sure that one day "we will reach out to the oppressed people of the world and help them fight the oppressors" – just like the people of Iraq, Syria and Yemen have had the spiritual support of the Iranian nation in the fight against their enemies.
In relevant remarks in early January, General Heidari had said that US President Donald Trump "is making hollow threats because of his sheer fear from Tehran's imminent military response to the assassination of Lieutenant General Qassem Soleimani.
He said that the United States has been threatening the Islamic Republic for the past 40 years, and stressed that the recent threats made by President Trump against Iran are "nothing but a bluff".
"The US will soon receive a crushing response," he added on the sidelines of special ceremonies to pay homage to Lieutenant General Qassem Soleimani, the commander of the Quds Force of the Islamic Revolution Guards Corps (IRGC), who was assassinated in a US airstrike in the Iraqi capital, Baghdad, on January 3.
The commander noted that the Islamic Republic enjoys great capacities and capabilities to counter threats, saying, "Trump's remarks show his fear of the power of Iran and the Resistance Front."