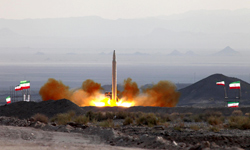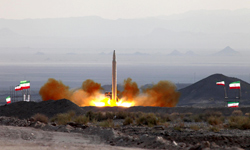 A senior Iranian defense industries official on Saturday hailed the unique features of the country's recently developed and tested Qiam 1 surface-to-surface missile, saying that Qiam 1 is a high velocity, radar-avoiding missile which can be fired from different types of launch pads.
"One of the most important features of the Qiam (Rising) missile is that it has no tail fins, wings and canards and this has granted it higher velocity," Head of the Defense Ministry's Aerospace Industries Organization General Seyed Mehdi Farahi told FNA.
The same feature has also made it possible for the Qiam missile to be "launched from various types of launchers", the General added.
Iran's Defense Minister Brigadier General Ahmad Vahidi announced on Friday that the country has test-fired its latest surface-to-surface missile which enjoys unique features.
Iran's new surface to surface missile, Qiam 1, has been successfully test-fired, Vahidi said.
Meantime, General Farahi stressed that the range of Qiam differs in accordance with its mission, meaning that the missile can hit targets in different distances according to its mission plan.
Elaborating on the other features of the missile, Farahi said that Qiam is a radar-evading missile and that the time for preparing and launching the missile has been minimized.
Iran has been pushing an arms development program in recent years in a bid to reach self-sufficiency. Tehran launched its arms development program during the 1980-88 Iraqi imposed war on Iran to compensate for a US weapons embargo.
Since 1992, Iran has produced its own jet fighters and armored vehicles as well as radar-avoiding missiles and other high-tech weapons.
Yet, Iranian officials have always stressed that the country's military and arms programs serve defensive purposes and should not be perceived as a threat to any other country.