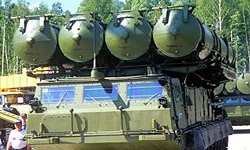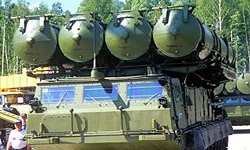 Commander of Khatam ol-Anbia Air Defense Base Brigadier General Farzad Esmayeeli said that Iran is producing the indigenous version of the sophisticated S-300 air defense system, adding that the country has already completed one-third of the project.
Speaking to reporters on the occasion of the National Day of Air Defense here in Tehran on Monday, Esmayeeli said that Iran has already completed 30% of the missile system's production project, dubbed as Bavar (Belief) 373, and expressed the hope that Iran would complete the system by the end of this Iranian year (March 2013) or the next year.
"We are through with developing the threat-detection capability of the system and its sensitive parts have been manufactured in Iran," Esmayeeli said, and added, "We have no problem for supplying the missiles needed for this system."
In November last year, Esmayeeli had announced that Bavar (Belief) 373 is even more powerful and more advanced than the Russian S-300.
"With this powerful system in our hand, we would not think of S-300 anymore," Esmayeeli stated at the time.
"Bavar 373 system is an important and completely indigenous achievement that can be a powerful rival for S-300," the commander reiterated.
Under a contract signed in 2007, Russia was required to provide Iran with at least five S-300 air-defense systems. However, Moscow's continued delays in delivering the defense system drew criticism from the Islamic Republic on several occasions.
Russia has been refusing to deliver the system to Iran under the pretext that the system is covered by the fourth round of UN Security Council resolutions against Iran.
Then-President Dmitry Medvedev signed a decree prohibiting the sale of Russian weapons, including S-300s, to Iran in 2010 after the United Nations imposed sanctions against the Islamic republic.
Iran dismissed Russia's justification that the ban on the delivery of the S-300 missile system to Iran was in line with the (US-engineered) UN Security Council Resolution 1929, and stated that this is an air defense system which is not included in Resolution 1929.
Iran then sued Russia for breach of the contract.