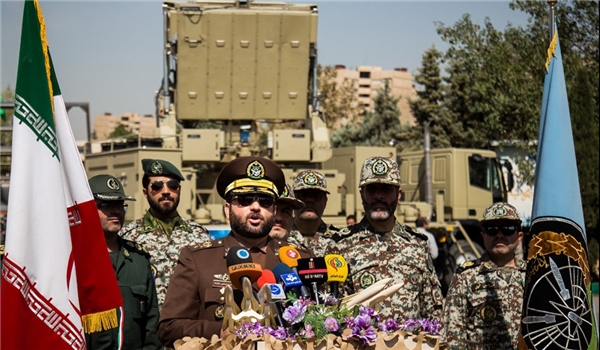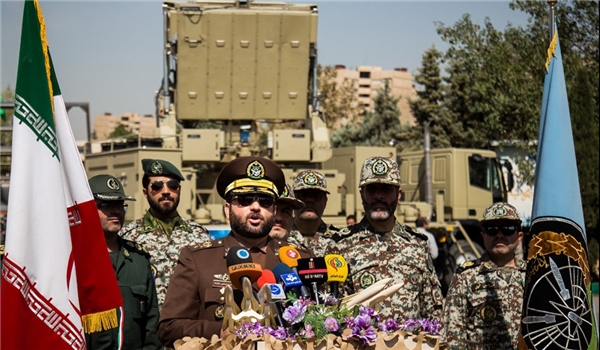 Commander of Khatam ol-Anbia Air Defense Base Brigadier General Farzad Esmayeeli announced that his country stands among the top 6 countries which have made huge progress in building different modern radars.
"We are among the top 6 world states in producing radars and we have been able to build smart missiles and advanced radars and use them for defense purposes," General Esmayeeli said Saturday.
Noting that the dangers threatening Iran are extended 360 degrees around the country given the deployment of the trans-regional states' bases in the region, he said that Tehran has tripled the number of its defense systems.
General Esmayeeli described Sama, Basir, Sami'e, Samet and Orouj as a number of state-of-the-art home-made air defense systems deployed in different parts of the country.
In relevant remarks last September, General Esmayeeli said that the skilled Iranian Air Defense Forces are using home-made state-of-the-art weapons and equipment to defend the country, he said that they have discouraged the enemies from launching a military attack against Iran by enhancing their preparedness and diversifying their options to stand against different types of threats.
General Esmayeeli made the remarks two days after the country's Armed Forces put into operation the home-made 'Nazir' radar system with the capability of detecting radar-evading targets and fighting against electronic warfare.
"Nazir radar system was put into operation and from now on, no radar-evading flying object can enter the Islamic Iran's skies without permission," General Esmayeeli said.
"The radar is special to detecting the small flying objects and MQ1, RQ4 and U2 aircrafts and can easily detect and trace ballistic and cruise missiles and most importantly, the radar-evading aircraft," he added.
Nazir is a long-range and high-precision radar system which is highly capable of detecting targets in low radar cross section and is resistant to radar evading and anti-radar missiles.
General Esmayeeli said that Iran will put into operation its home-made version of the sophisticated Russian S-300 missile defense system, dubbed as Bavar (Belief) 373, in the near future, adding that the two systems play complementary roles for each other.
"The radar and missile defense system, Bavar-373, is a powerful and fully indigenous supplement for the S-300 defense system which will be put into operation soon," he said.
"The S-300 and Bavar-373 systems will be highly lethal for the enemy," the Iranian commander added.
He concluded that Iran is also building two other defense systems named Talash 2 and Talash 3.