Iran
Middle East
North America
Commander: Iran to Win Any Enemy-Imposed War
Iranian Deputy Army Commander for Coordination Rear Admiral Habibollah Sayyari stressed that his country does not seek military confrontation against any state but it will gain victory in any possible war imposed by enemies.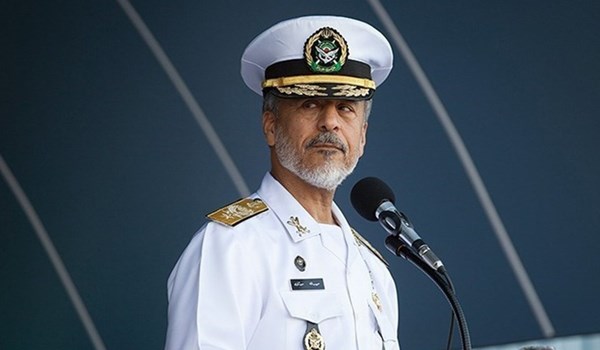 "We have never been after (any) war and will never seek one," Rear Admiral Sayyari said, addressing a ceremony in Tehran on Tuesday.
He underlined that although Iran does not seek war with any state, the nation will be the ultimate winner of "any potential warfare against the Islamic Republic".
Rear Admiral Sayyari pointed to the Iranian military's defensive developments, saying the military is now more powerful than ever, as the country has boosted the forces' various subcategories and different Army divisions have undergone major structural changes.
He further added the nation's courage and military advances have pushed away the enemies who have been seeking to undermine Iran's integrity.
In relevant remarks earlier this month, Commander of the Iranian Army's Khatam ol-Anbiya Air Defense Base Brigadier General Alireza Sabahi Fard said that his country's high deterrence power had disrupted US plans, making Washington started sending back its warships from the Persian Gulf.
"Today, the fact that the enemy has been pushed to stop 200 miles away from the Strait of Hormuz and is withdrawing its warships from the Persian Gulf is due to the (Iranian) Armed Forces' deterrence power and the enemy knows that it can't test Iran's preparedness and defense power," General Sabahi Fard said in Tehran.
He warned the Iranian Armed Forces' reaction to any hostile move regrets any enemy.
General Sabahi Fard, meantime, said that air defense systems have been deployed in different parts of the country, monitoring the Iranian sky and the airspace beyond the borders.
His comments came as the United States has been trying to persuade its allies into an international coalition in the Strait of Hormuz, which accommodates around a third of global seaborne oil traffic, and other strategic Middle Eastern shipping lanes.
Washington's call has, however, been met with little interest from Washington's allies, which are concerned that joining such an alliance could drag them into a conflict with Iran.
The French are noncommittal, while Germany, Italy and Sweden have rejected joining the alliance.