Iran
Commander: Iran's Ground Force Ready to Annihilate Jeish Al-Adl Terrorist Group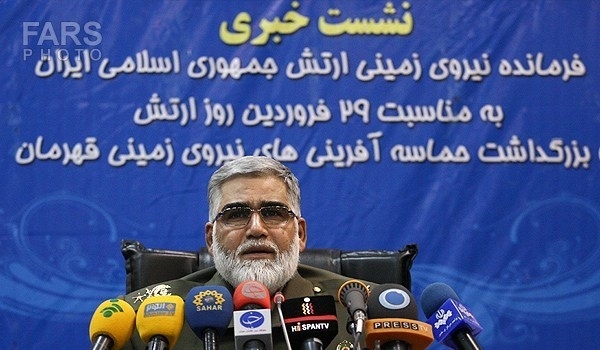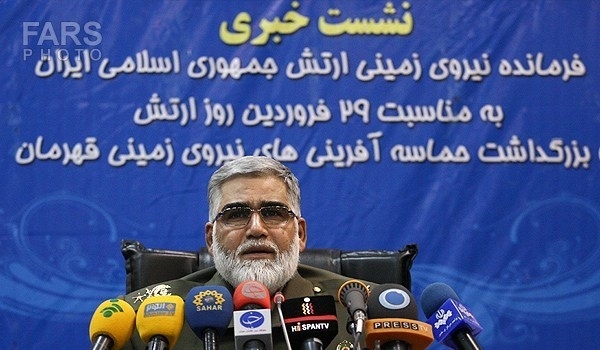 Commander of the Army Ground Force Brigadier General Ahmad Reza Pourdastan stressed his forces' readiness to capture or kill the members of the terrorist Jeish al-Adl group which abducted five Iranian border guards in February.
"We are ready to capture or kill the Jeish al-Adl terrorists in their hideout (in Pakistan) if we receive an order from relevant officials and if the political considerations allow," Pourdastan said in a press conference in Tehran on Saturday on the occasion of the National Army Day (April 18).
He said that after the abduction of the Iranian border guards, the General Staff of the Army has envisaged some special measures to prevent such events in future.
His remarks came after Commander of the Iranian Border Guard Units General Hossein Zolfaqari underlined that the Pakistani security and military forces played no role in the freedom of the four Iranian border guards who were abducted and taken to Pakistan by Jeish al-Adl terrorist group in February, and were eventually released 9 days ago.
"Although some actions were taken by the Pakistani border guards to find their Iranian colleagues, the Pakistani intelligence, military and police forces played no role in releasing the hostages," Zolfaqari said on Sunday.
He said that the abductees were released due to the joint cooperation among the border guards, Sistan and Balouchestan province's General-Governor office and a number of regional tribal leaders.
Zolfaqari also dismissed Pakistani officials' claims that the kidnapped Iranian border guards were not kept in Pakistan, and said they were handed over to Iran from Pakistan.
The four Iranian border guards who had been handed over to the country's officials in neighboring Pakistan last Friday returned home on Sunday morning two months after their abduction.
The five Iranian border guards were abducted in Jakigour region of Iran's Sistan and Balouchestan Province on February 6 and taken to Pakistan. Reports said earlier that one of them, Danayee-Far, was killed late last month but the official sources haven't confirmed his death yet.
Iranian Interior Minister Abdolreza Rahmani Fazli said on Thursday that Tehran will continue pursuing the fate of the 5th border guard abducted by Jeish al-Adl terrorist group.
Tehran would by no means accept the death of the fifth kidnapped border guard, Jamshid Danayee-Far, and will increase diplomatic efforts to find him, Rahmani Fazli said.
The Iranian interior minister took the Pakistani government responsible for following up the case of the last kidnapped Iranian border guard.