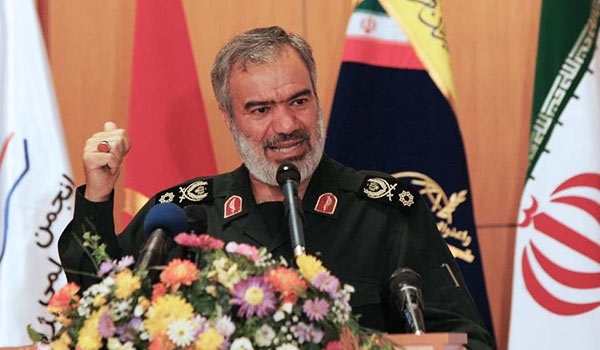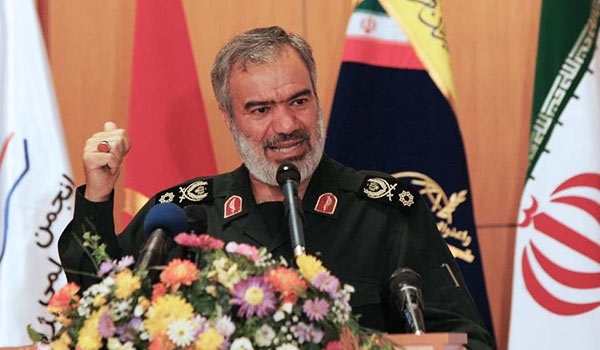 Islamic Revolution Guards Corps Navy Commander Rear Admiral Ali Fadavi downplayed Washington's military buildup in the Persian Gulf, and said the IRGC speedboats have the needed capability to sink the US aircraft carriers.
"The US is not in such conditions that it can threaten us in action, yet it continues making verbal threats," Fadavi said in a meeting with a delegation of Oman's National Defense College in Tehran on Sunday.
Stressing that the Americans have also admitted that they should change their strategy against the IRGC in the Persian Gulf, he said, "The US military officials have admitted in their remarks that they have spent $13bln for building aircraft carriers, but the IRCG can sink it with its speed boats."
Fadavi said that Iran's defensive power plays a very strong deterrent role against enemies' plots and threats.
The IRGC is responsible for the security of the Persian Gulf. In 2008, Major General Yahya Rahim Safavi, former commander of the IRGC and the current military advisor to the Supreme Leader of the Islamic Revolution, declared that the responsibility for defending the Persian Gulf had been handed over to the IRGC.
He warned that the IRGC would seal the strategic Strait of Hormuz in case the US launches any attack on Iran's nuclear installations.
Iran's naval power has even been acknowledged by foes. In a Sep. 11, 2008 report, the Washington Institute for the Near East Policy said that in the two decades since the Iraqi imposed war on Iran, the IRGC has excelled in naval capabilities and is able to wage unique asymmetric warfare against larger naval forces.
According to the report, the IRGC Navy has been transformed into a highly motivated, well-equipped, and well-financed force and is effectively in control of the world's oil lifeline, the Strait of Hormuz.
The study says that if Washington takes military action against the Iran, the scale of the country's response would likely be proportional to the scale of the damage inflicted on the Iranian assets.
A senior Iranian commander announced in April that the IRGC had equipped its speed boats with the home-made cruise missiles.
Iran has armed IRGC Navy's speed boats with long-range 'Qader' cruise missiles which can destroy maritime targets including frigates and warships, Lieutenant Commander of the Islamic Revolution Guards Corps Navy General Alireza Tangsiri said.