Iran
Middle East
Commander: Tens of Terrorists Killed in Clashes with IRGC at Iranian Borders
Commander of the Islamic Revolution Guards Corps Ground Force Brigadier General Mohammad Pakpour announced that the IRGC forces have engaged in over 50 clashes with the terrorists at the Iranian borders and killed tens of militants since late March.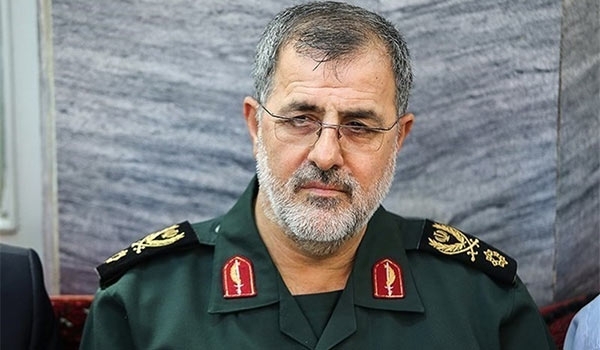 "Over 50 cases of attack have happened in the past 6 months which have led to clashes and considerable tolls have been inflicted on the terrorists' operational teams at the Northwestern and Southeastern borders of Iran," General Pakpour told FNA on Sunday.
He also added that several Takfiri and terrorist teams in the Western borders of Iran have been dismantled completely by the IRGC Ground Forces and tens of terrorists have been killed in the past three years.
General Pakpour underlined that security and tranquility prevails at the Iranian borders despite all moves made by the terrorist groups due to the intelligence superiority and preparedness of the IRGC Ground Force's units.
The IRGC is actively engaged in security operations against anti-Iran terrorist groups and accordingly is attacked by entities and terrorist groups which hold grudge against Tehran.
The IRGC announced early in July that it had disbanded a team of terrorists in an ambush operation in the Northwestern province of West Azarbaijan as they were trying to infiltrate into the country, killing two of them.
The IRGC announced in a statement that servicemen from its Hamzeh Seyed al-Shuhada base had carried out the security operation.
The terrorists were ambushed as they were trying to infiltrate the country from the province's Chaldoran County. Two terrorists were killed in the clashes and several others were wounded, the statement noted.
Two IRGC servicemen lost their lives during the operation as well.
According to the statement, a considerable amount of weapons, ammunition, and communication equipment were also seized.
Also in June, the IRGC dismantled a 4-member terrorist gang in the same province near the border with Turkey.
The IRGC forces managed to kill one, injure two and arrest one members of a terrorist group active in Chaldoran region, in an ambush attack, the IRGC's Hamzeh Seyed al-Shohada Base said in a statement.
The security forces were hunting for the 4-strong sabotage gang.
Also, IRGC forces seized a number of weapons and some ammunition from the terrorists in the operation.