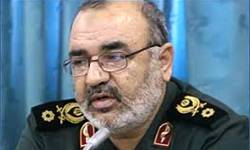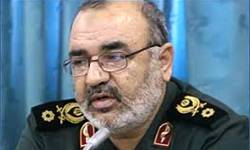 Iranian fighter jets engaged with a hostile US Unmanned Aerial Vehicle within the Iranian airspace, a senior Iranian military commander said, rejecting reports that Iran attacked the US drone outside its airspace.
Speaking to reporters here in Tehran on Sunday, Lieutenant Commander of the Islamic Revolution Guards Corps (IRGC) Brigadier General Hossein Salami responded to questions about the rendezvous point of a recent confrontation between two Iranian fighter jets and a US aircraft, and said the engagement took place inside Iranian airspace.
"Otherwise, there would have been no shooting (at the drone)," he continued.
The proofs and documents of this confrontation are available, we never attack any aircraft outside our borders and in international airspace, Salami said, and stressed, "We know and observe all the international rules in confrontations against alien aircrafts and aggressions."
Iranian Defense Minister Brigadier General Ahmad Vahidi on Friday confirmed reports about Iran's confrontation with an enemy aircraft in the airspace over the Persian Gulf, saying that the aircraft was shooed away by Iranian fighter jets.
"Last week an unidentified aircraft entered the airspace over Iran's territorial waters in the Persian Gulf, which was forced to flee due to the prompt, smart and decisive action of the Islamic Republic of Iran's Armed forces," Vahidi said in a statement released by the Iranian Defense Ministry on Friday.
The Iranian defense minister further stated that Iran is pursuing the case at relevant international bodies using all available capacities.
On Thursday the Pentagon reported that Iranian fighter jets had opened fire on a US drone over the Persian Gulf on November 1, but did not hit the aircraft.
According to the timeline provided by the Pentagon, two Iranian SU-25 "Frogfoot" aircraft intercepted the American drone at about 4:50 a.m. EST (0850 GMT) as it conducted a classified mission over Persian Gulf waters about 16 nautical miles off the Iranian coast.