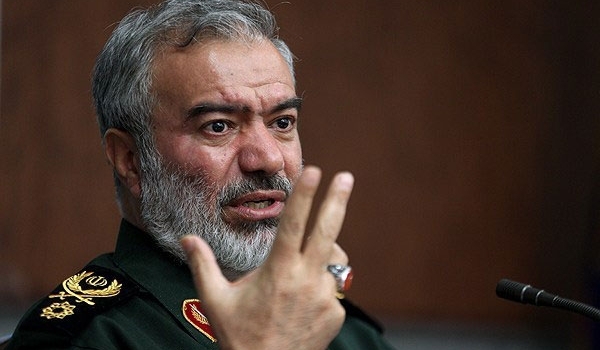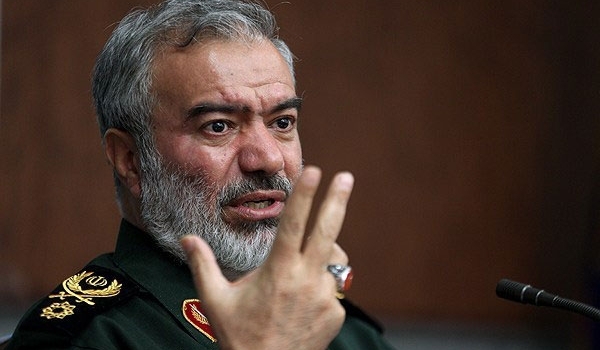 Commander of the Islamic Revolution Guards Corps Navy Rear Admiral Ali Fadavi underlined his forces' high preparedness to confront enemies, noting that Washington is not aware of the IRGC's naval power.
"The IRGC Navy has used all its capacities to enhance security in the Persian Gulf and is now at the highest level of preparedness and capabilities," General Fadavi said on Sunday.
Noting that the IRGC Navy has never been as powerful as today, he said, "The Americans are not aware of the IRGC Navy's high capabilities and the US statesmen will understand it when their warships sink in the Persian Gulf (in case of any war between the two sides)."
In relevant remarks in 2014, General Fadavi said his forces have been drilling how to destroy US warships for the last several years, underlining that the IRGC Navy can sink a US aircraft carrier in less than a minute.
He said the US air combat power overseas is totally dependent on the fighter jets flying from its aircraft carriers, and this has made these vessels a natural and high value target for the IRGC Navy in any possible war.
The Admiral said his forces have, thus, been conducting routine drills on how to sink US vessels in any potential combat, specially in the Persian Gulf, adding that they have gained good knowledge of the "design, construction and structure of the US warships".
He said Iran has produced "replicas of the US aircraft carriers" for IRGC Navy drills.
"They (Americans) know nothing. We have been making and sinking replicas of US destroyers, frigates and warships for long years, and we have sunk the replica of their vessels in 50 seconds through a series of operational measures," added Fadavi.
"We practice the same drills on replica aircraft carriers because sinking and destroying US warships has, is and will be on our agenda," he reiterated.
Such drills have been conducted on a replica of a US warship 202m in length, General Fadavi said at the time.