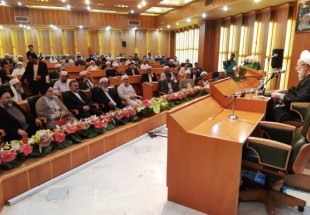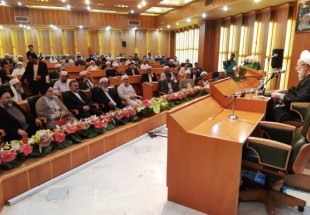 Iran's holy city of Mashhad has hosted conference on Imam Reza (AS), eighth Shia Imam, concurrent with the birth anniversary of the Shia leader.
Ayatollah Mohammad Mohammadi Reyshahri, senior Shia cleric, in this conference warned of the present situation in the world of Islam and struggles by the arrogant powers to divide Shia and Sunni, reported Taqrib News Agency (TNA).
He said," To explain the teachings of Imam Reza (AS) in Sunni references is very important since it provides the grounds for proximity of different Islamic denominations."
Manager of Dar-ul-Hadith cultural institute expressed regret over the plague of division and war in Iraq and Syria and said enemies have stood against Islam in pursuit of dividing Shia and Sunni.
He highlighted expansion of Ahlul Bayt (AS) teachings as a way to pave the way for globalization of Islam and said," These teachings are all from Qur'an and lifestyle of Prophet Mohammad (PBUH)."
High character, scientific and practical styles and also the hadith by the eighth Shia Imam were among the key discussions in this conference.
The one-day conference aimed at promoting cooperation, boosting Shia-Sunni unity, spreading the culture and teachings of Imam Reza (AS).
Foundation of Islamic studies at the holy Shrine of Imam Reza (AS), Iranian northeastern city of Mashhad hosted several Shia and Sunni elites from across the country in the one-day conference held concurrent with the auspicious birth anniversary of eighth Shia Imam and grandson of Prophet Mohammad (PBUH).