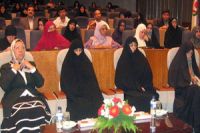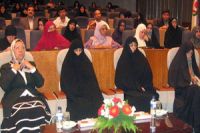 Nowadays lack of observance of women's rights is among the great challenges. What happens in the west to the family, men and women is the result of a false look at the issues of both genders.
The western society has placed women against men and ignored their real rights. It has distanced women from their main role as a wife and mother and deprived them of the calm atmosphere of family. But Islam stresses the reciprocal rights of man and woman based on their physical and psychological differences.
But the problems of the female community indicate that certain changes should be done. A road-map is needed based on the real rights of men and women. Iran's presidential center for women and family affairs had recently held an international meeting dubbed as, "International Specialized Meeting to Revitalize Human Rights and Women's Rights Charter in Islam." The meeting which was held in Tehran on February12-13 was attended by both Iranian guests and representatives from other countries including Tunisia, Nigeria, Iraq, Afghanistan, Palestine, Republic of Azerbaijan, Yemen, Indonesia, Sudan, Qatar, Jordan, Algeria, Bahrain, Syria, Malaysia, France, Pakistan and Saudi Arabia.
The Head of the Presidential Center for Women and Family Affairs Maryam Mojtahedzadeh said the goal of the confab was to draw up women's rights covenant in Islam, to create a kind of like-mindedness in the field of human rights and women's rights and to show the relevant issues. She said, "Respect for human's inborn dignity and the rights of human beings is natural and enjoys a high value and Islam has put a special emphasis on observing women's rights."
Armina Hassanich from Bosnia stressed the need for educating women saying, "For the education of women, one should know religion and women and the relation between these two. Everybody should be sure that these discussions will have good results. A Muslim woman should have firm belief and know that the jurisprudential instructions are definitely in full conformity with her nature. Today women face with the two types of traditional and feminist ignorance. These two prevent materialization of women's rights; therefore, for explicating women's rights one should refrain from these two."
Referring to the equality of rights between men and women Hassanich said, "Islam has considered the differences of the rights of women and men according to the characteristics and merits of women. We believe in compliance of the rights of women and men."
The west viewpoint has created so many problems for women. But attention to the Islamic injunctions can reduce these harms.
The Sudanese Minister of Social Development Masha'er Ahmad Amin said, "The west has created free sexual relations for men and women and it permits abortion; while the Islamic view is different."
The Qur'anic ayahs have specifically stressed women's rights. Women do not enjoy a low social status. This is a real value which Islam has taken into consideration for women. A woman is regarded as a tool of advertisement and pleasure and a means of satisfying men's carnal desires; whereas Islam stresses the spiritual value of women. In Islam women are introduced as partners of men and both enjoy balanced rights. Moreover, Islam paves the way for women's political activity and their testimony in jurisprudential and legal issues is credible. Islam pays special attention to the economic rights of women and a woman can economically be independent and no one can decide about her properties except herself. Islam emphasizes on preservation of women's dignity. Men and women are equal but not similar or the same. Each gender has to enjoy his/her rights in view of the God-given characteristics, capabilities and talents. Each one is created for a purpose and should follow the path to thrive those capabilities. For a woman it is not a matter of pride to behave like a man or wear like him. Neither is it a matter of shame to be a mother. We should create the conditions to enable women to work in calm. Globalization and liberalism have destroyed women's rights.
Iranian professor Fariba Alasvand pointed to some of the harms inflicted on western woman and said, "Now the western woman is denied her best roles and she does not experience the sweet sense of motherhood. In some of the western countries there are a lot of single mothers. Due to the sordid lucrative industry of pornography, the western woman lives under the yoke of men."
The Iranian professor added, "The international communities spend billions of dollars to hold confabs on violence to improve the conditions of Muslim women while the women of their countries are suffering from financial problems. As if they do not see that Muslim women are the main victims of violence in countries like Palestine, Syria etc. They themselves impose this violence on Muslim women. The UN Women Status Commission has entered this field to impose the western opinion on the Muslim women, while the Muslim women should be full of the rich thoughts of her prophet."
In conclusion, she reiterated that the member states of the Organization of Islamic Cooperation (OIC) can promote the genuine Islamic thought on women and in line with this goal they can draw up the covenant of women's rights and responsibility with an Islamic view and spread it as an important message.
At the Tehran meeting, Muslim jurists and professors approved "Women's Rights Covenant in Islam" in 35 articles. The covenant has underlined that both men and women in Islam enjoy balanced rights and the existing differences result from the inborn differences between the two genders. Women's rights have been divided in three parts: the rights of girls, the rights of wives and the rights of mothers and their duties have been mentioned according to Islam. The Women's Rights Covenant in Islam has dealt with the rights of women and their individual, family, social, economic, civil, political and judicial responsibilities. Women enjoy all basic human rights including human dignity, freedom of thought. Their life, property and dignity should be immune from any aggression.
The right of scientific, spiritual and moral perfection, education and maintaining of psychological needs, acquiring necessary skills for the management of house and family are considered among women's rights. In addition, women enjoy the right of a healthy place of working and living, safe environment, and sound sport and recreation facilities. Women's participation in decision-making and legislation, freedom of religious ideas, physical and spiritual support in wartime are among the cases stressed in the covenant.
At the end of the confab the participants read a statement in support of women's human rights. The statement acknowledged that Islam has a special emphasis on observance of human rights especially for preservation of justice and equality. The participants condemned violation of human rights and women's rights as a result of the carnage inflicted by wars and conflicts, terrorist acts and illegal sanctions. They also condemned the occupation of Palestine by the spurious regime of Israel and called for taking into consideration rights of women and children in Palestine and Gaza. The statement considered the distance of men and women from human dignity and rights, extra-marital relations among the factors behind disintegration of family and violation of women's rights. It also stressed the formation of family on the basis of the God-given nature, gender justice, active participation of women in society, attention to women's rights in Islam and finally increase of reciprocal understanding, respect for and preservation of cultural diversity.