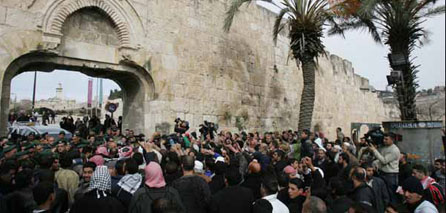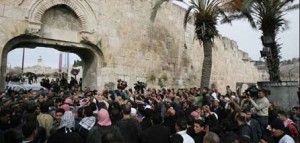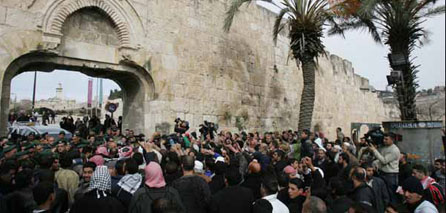 Palestinians and Zionist forces were seen clashing near Al Asbat Gate in the occupied Jerusalem on Sunday morning after news about Zionist intention to storm Al Aqsa masjid.
Dozens of the demonstrators hurled stones toward the Zionist occupation forces which spread intensively near the Gate.
Three Palestinian were kidnapped, and some injuries were immediately reported, although at least 40 people were hurt when fierce confrontations erupted there last week.
The confrontations erupted after the Zionist forces closed Al Aqsa and denied the prayers to access it.
Around dawn, police kidnapped Hatim Abdul-Qader, the former Palestinian Authority minister of Jerusalem affairs, along with three worshippers.
Meanwhile, Zionist settlers gathered near the Moroccan Gate, while Zionist sources were said to have informed local officials that police planned to allow settlers access to the compound in groups. For his part, Sheikh Mohammed Hussein warned of the potential for repercussions if the settlers were to enter.
On Friday, Sheikh Raed Salah, leader of the Islamic Movement inside the green line, said religious groups may break into the compound during the Jewish holiday of Sukkot. He called on Muslims to be present at the compound throughout the week, he said in a statement widely circulated by the Al-Aqsa Foundation.