Iran
World News
Correa: Ecuador Expands Ties with Iran Regardless of West's Objections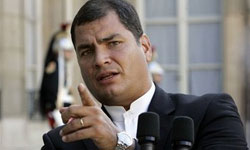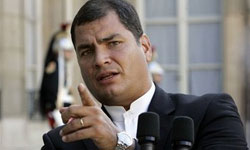 Ecuador's President Rafael Correa rejected the western states' call for the lowering of economic relations with Iran, and said Quito doesn't take permission from other countries to develop ties and cooperation with Tehran.
Speaking at a press conference in the Ecuadorian capital on Sunday, Correa lambasted some media outlets for opposing the expansion of relations with Tehran, and described as "intimidated" those behind such malevolent journalistic material.
"The government of Ecuador will do whatever it sees fit [to be done] for the country without seeking permission from no one," he said.
The Ecuadorian president also rejected calls from certain Western countries against maintaining trade ties with Iran.
The Ecuadorian president noted that the level of commercial exchange between Quito and Tehran stood at around $1.2 million last year.
Iran has in recent years expanded friendly ties with Latin America, specially in economic, trade and industrial fields.
Since taking office in 2005, Iranian President Mahmoud Ahmadinejad has expanded Iran's cooperation with many Latin American states, including Venezuela, Bolivia, Ecuador and Cuba.