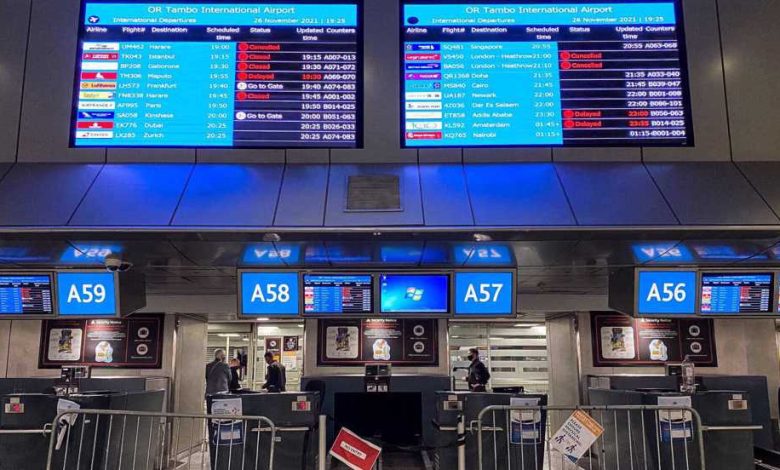 The discovery of the highly mutated new coronavirus variant named Omicron has prompted governments around the world to ban travelers from several southern African countries.
The World Health Organization (WHO) on Friday classified the new coronavirus variant detected in South Africa as a "variant of concern" and gave it the name "Omicron."
The new mutations were first discovered in South Africa on Nov. 24 and so far, only several dozen cases have been fully identified in South Africa, Botswana, Hong Kong, Belgium and Occupied Palestine.
Omicron has been described as having an "extremely high" number of mutations, and has largely been detected among young people, the cohort that also has the lowest vaccination rate in South Africa. Just over a quarter of people aged 18 to 34 in South Africa are vaccinated, said Dr. Joe Phaahla, the country's health minister.
Changes in the spike protein are particularly worrisome because immune system antibodies that fight the virus – whether they are induced by infection or by vaccination – primarily recognize and target the spike. It is as yet unclear how effective vaccines will be against it.
The WHO said it would take a few weeks to understand the impact of the new variant and whether existing vaccines and treatments are effective against it, as scientists worked to determine how transmissible it was. Omicron is the fifth variant of concern designated by the WHO
A number of countries around the world such as the United States, Canada, the European Union, Iran, Australia and Japan, have now decided to ban or set restrictions travel to and from southern African countries including Botswana, Eswatini, South Africa, Lesotho, Malawi, Mozambique, Namibia and Zimbabwe.
Epidemiologists warned travel curbs may be too late to stop Omicron from circulating globally and like past variants when the first cases are identified, it is certain to reach and spread around the world.
Richard Lessells, a South Africa-based infectious disease expert, expressed frustration at travel bans, saying the focus should be on getting more people vaccinated in places that have struggled to access sufficient shots.
Less than 7% of people in low-income countries have been fully vaccinated, according to medical and human rights groups. Meanwhile, many developed nations are giving third-dose boosters.