Asia-Pacific
China
Latin America
Middle East
Turkey
COVID-19: China reports new infections; Turkey, Bolivia confirm 1st cases
China has reported an increase in its new confirmed cases of coronavirus infection, reversing four consecutive days of decreases, and more countries are reporting their first infections.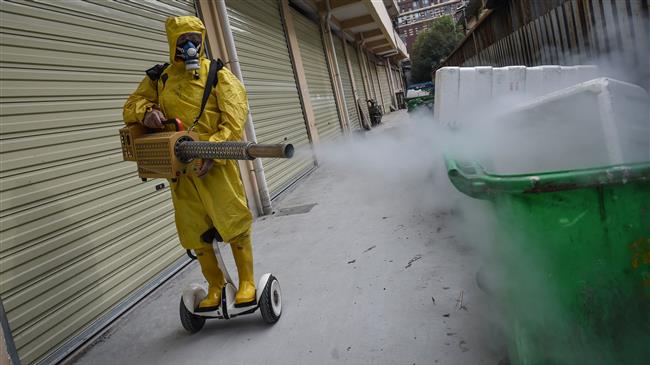 Chinese health officials on Wednesday reported 24 new cases of COVID-19 infection and 22 deaths in mainland China over the previous 24 hours.
China's National Health Commission said that of the new infections, 10 were imported cases, bringing the overall cases from abroad to 79.
Those figures bring China's totals to 80,778 infections and 3,158 deaths since the outbreak emerged in Wuhan, the provincial capital of Hubei, in December last year.
Officials reported just 13 new infections in Wuhan — a city of 11 million people — on Tuesday.
Wuhan and several other cities had been under lockdown to prevent the spread of the virus. Amid the decreases in tallies over the past days, a few cities in Hubei started to loosen restrictions on the movement of people and goods. But, at least one reversed that decision as new increases emerged on Tuesday.
The outbreak of the new coronavirus continues to grow in other countries, and some nations have reported their fist cases.
According to the latest figures from John Hopkins University, 98 out of the 195 countries in the world have so far reported cases of the coronavirus.
More than 4,200 people have died of COVID-19 across the world, and more than 113,000 people have also been infected, according to the World Health Organization (WHO). About 64,000 people have also recovered from the illness, globally.
Turkey reports first case
Turkey announced its first case of the new coronavirus infection on Wednesday.
The patient is a male who had returned from Europe, Health Minister Fahrettin Koca said, without providing further personal information, citing the patient's right to privacy.
Koca said the patient was isolated and his family members and other people who had come into contact with him had been quarantined.
Bolivia detects first cases
The coronvirus has also reached South America, with Bolivia reporting its first two cases on Tuesday.
Health Minister Anibal Cruz said the patients were two women over 60 years of age who arrived in the country from Italy initially without symptoms of the disease.
Panama registers first death
Meanwhile, Panama's Health Ministry confirmed the country's first death from the coronavirus, along with seven new cases of infection in the Central American nation.
South Korea reports jump in new cases
South Korea, the worst-hit country after China, reported a jump in new cases on Wednesday, after health officials detected a cluster of viral infections at an insurance company in the capital, Seoul.
The Korea Centers for Disease Control and Prevention on Wednesday reported 242 new cases of coronavirus infection from the past 24 hours, bringing its total to 7,755.
Europe
In Europe, Italy has been hit the worst by the new coronavirus, with more than 10,000 infections and 631 deaths so far.
Authorities have imposed drastic quarantine measures to contain the spread of the pathogen.
Trains, planes, and vehicles leaving the country faced new restrictions on Tuesday; and many other countries, including Spain and Portugal, suspended air traffic to and from Italy for two weeks.
Italian PM puts whole country in lockdown over COVID-19 outbreakThe Italian prime minister has put the entire country in a lockdown over the outbreak of the novel coronavirus, which has killed over 450 Italians so far.
Austria, meanwhile, ordered a halt to flights and trains from Italy; and Slovenia said it would impose controls at its border with the country.
British Airways said on Tuesday it had canceled Italian flights. Air France and some low-cost carriers said they would scrap flights from the country's airports until early April as well.
Air Canada also suspended flights to Italy until at least May 1.
Indonesia reports first death
Indonesian health officials reported the first death from the coronavirus in the country on Wednesday.
A 53-year-old woman, a foreign national, who had already been in critical condition when she was admitted to hospital, died on Wednesday, said Achmad Yurianto, an official with the Health Ministry.
Yurianto did not say where the woman was from, but said her home country's embassy was aware of her death and would arrange to have her body returned.
Belgium reports first death, too
Belgium's Health Ministry announced the country's the first death on Wednesday. The patient was 90 years old.
77 more Bahrainis infected
Bahrain's Health Ministry reported 77 new coronavirus cases, which brought the total number of the patients recorded in the country to 189 as of Wednesday.
The ministry said that the new cases of COVID-19 infection were all among the citizens evacuated from Iran by plane this week.
Japan rules out canceling/postponing Olympics
Japan has ruled out the cancellation or postponement of the Tokyo Olympics, despite the outbreak of the coronavirus.
Olympic Minister Seiko Hashimoto said Wednesday that postponing or cancelling the Games, due in July and August, was "inconceivable" but said the International Olympic Committee (IOC) would make a final decision.
A member of the Tokyo 2020 Organizing Committee said previously that the event could face a postponement of two years.
As of Wednesday, authorities had reported 1,278 infections and 19 deaths in Japan.