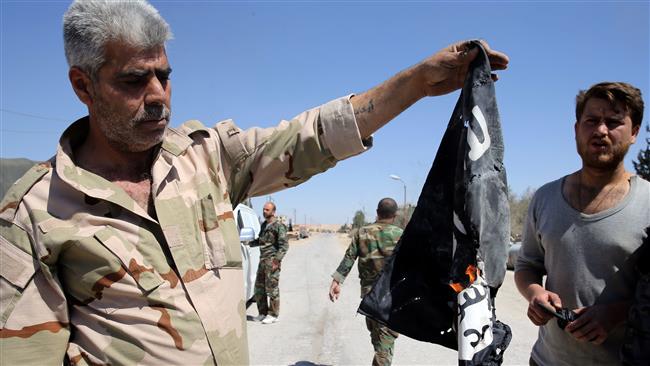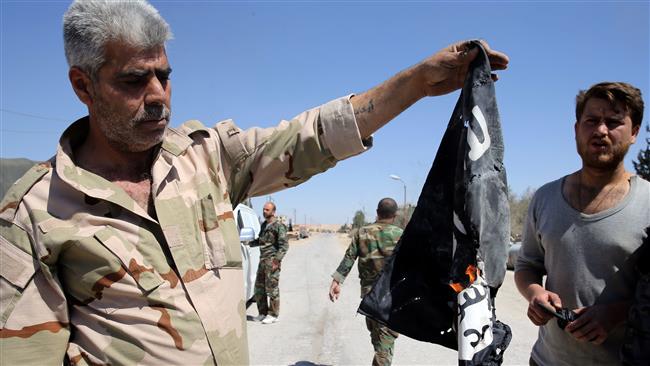 Militants from the Takfiri Daesh terrorist group have seized a key town in northern Syria from Turkish-backed militants.
The so-called Syrian Observatory for Human Rights said Daesh took control of al-Rai along the Turkish border on Monday morning after intense fighting with other militants in the town.
The news comes four days after Deash lost control of al-Rai to other militants groups, including al-Nusra Front, which is al-Qaeda's Syrian branch.
Al-Rai, located in Aleppo Province, is a main supply route for Daesh. The Syrian army, backed by Russian aerial cover, seeks to purge the northern province of all Takfiri militants.
On Sunday, Prime Minister Nader al-Halqi said the Syrian army is gearing up to liberate Aleppo.
"We, together with our Russian partners, are preparing for an operation to liberate Aleppo and to block all illegal armed groups which have not joined or have broken the ceasefire deal," he said.
Syria is currently observing a ceasefire brokered by Russia and the United States, which entered into force on February 27.
The truce was reached between the Syrian government and dozens of militant groups operating in the country. The ceasefire does not apply to Daesh and al-Nusra Front terrorist groups.
A Russian delegate on a visit to Syria, Dmitry Sablin, voiced his country's readiness to support Syria in the operations for the liberation of Aleppo.
"Russian aviation will help the Syrian army's ground offensive operation," he said in Damascus.
Russia has been conducting airstrikes on the positions of Daesh and other terrorist groups in Syria since September last year. The aerial campaign came after a request by the government in Damascus.
On March 14, Russian President Vladimir Putin ordered a partial military pullout from Syria; however, operations at the Russian Hmeimim airbase in Latakia and at the Tartus naval base will continue.
The Syrian Observatory for Human Rights said on Sunday an unspecified number of al-Nusra Front terrorists had been killed near Aleppo's Khalidiya neighborhood and the village of Khan Tuman.
It cited a "fierce fighting" underway between Syrian army forces and terrorists in the region.
Syrian army units and their allies retook Barneh and Zaytan villages, which lie south of Aleppo, the latest in a string of victories by government forces over terrorist groups in the war-hit country.