Africa
Daesh storms town on motorbikes in Nigeria, kills 11 soldiers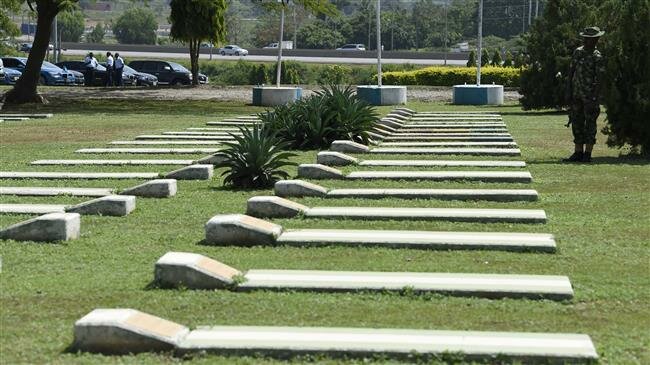 ِDaesh terrorists, riding motorbikes, have stormed a town in northeastern Nigeria and killed 11 soldiers in barracks, the Takfiri group and local sources say.
The attack on the town of Gajiganna in Borno state took place on Friday, after which the assailants fled when the military called in air force support and reinforcements.
The terrorist group claimed the attack through its news agency AMAQ on Saturday and published pictures of burned barracks and dead bodies it claimed belonged to the soldiers.
Local sources, including a hospital warden, confirmed the attack. They said the attackers stormed the town in the afternoon and opened fire on residents and the military.
The militant group, which calls itself the West Africa province (ISWAP) branch of Daesh, has carried out a string of attacks in Nigeria in recent months.
In 2016, ISWAP separated from Boko Haram which has waged a reign of terror in northeast Nigeria for a decade, but there are reports the two groups might be merging back together.
Nigeria's army chief warned last month of an ISWAP-Boko Haram alliance to carve out a Takfiri enclave stretching from Nigeria's northeast into the wider Lake Chad region.
Since 2009, attacks by Boko Haram terrorists have left at least 27,000 dead and made over 2.6 million others homeless. The Takfiri group pledged allegiance to Daesh in 2015.
Boko Haram has used terror as a weapon of war, killing and abducting thousands of women and young girls as well as men and young boys.
The violence has spread to neighboring Niger, Chad and Cameroon, prompting a regional military coalition against the terrorists.
On April 14, 2014, Boko Haram gunmen stormed a girls' boarding school in the Nigerian town of Chibok, kidnapping 276 pupils aged 12-17. Five years after the kidnap, 112 girls are still missing.
Last year on the fourth anniversary of the Chibok kidnapping, the UN Children's agency said more than 1,000 other children had been kidnapped by the Takfiri terrorists since 2013.
In 2016, Human Rights Watch put the number of young boys — some as young as five — in the hands of the terrorist group at up to 10,000.