Iran
Middle East
World News
Damaged Oil Tankers Leave Iranian Waters
Managing-Director of Ports and Navigation of Iran's Hormozgan Province Allah Morad Afifipour announced on Saturday that the two oil tankers which were attacked in the Sea of Oman on Thursday have left Iranian waters, adding that their crew members too will leave Iran tonight.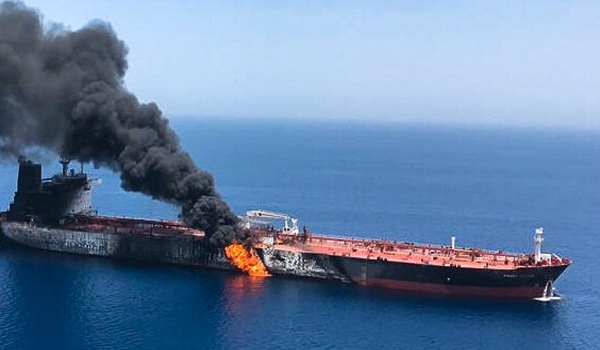 "The (Norwegian-owned) Front Altair oil tanker is now sailing 36 miles away from Jask port towards Fujairah/Khor Fakkan of the UAE with Marshal Island's flag," Afifipour told FNA at around midday.
"Kokuka Courageous oil tanker that operates under the Panama flag moved towards Khor Fakkan port with 21 crews on Friday," he added.
His remarks came in rejection of the US officials' claims that the Islamic Revolution Guards Corps (IRGC) fast-boats in the Gulf of Oman were preventing two privately-owned tug boats from towing away an oil tanker damaged in Thursday attacks.
Afifipour said that 23 crew members of Front Altair have been transferred from Jask to Bandar Abbas port in Southern Iran and will head to Dubai on Saturday night from Bandar Abbas airport and then to their home countries after finishing formalities based on the Maritime Labour Convention (MLC).
Some US media outlets had claimed that the crew are in custody in Iran, but marine officials said the rescued crew have been receiving treatment in Iran.
Afifipour added that although the damaged vessels were oil tankers with hazardous environmental cargos, swift action by the Iranian rescue teams to control the fire prevented any oil leaks in the sea.
Early on Thursday, media reports said explosions occurred on two oil tankers in the Gulf of Oman, apparently as a result of attacks.
The MT Front Altair had been loaded at a port in the Gulf of Oman with a petroleum product known as naptha, and was on its way to the Far East..
Front Altair was loaded from Qatar with the flag of Marshal Islands and Kokuka Courageous was loaded from Saudi Arabia with a Panama flag.
Meanwhile, BSM Ship Management said on Thursday that its crew of 21 aboard the Kokuka Courageous carrying methanol were rescued in the Gulf of Oman by a nearby Iranian vessel after what it described as an "incident on board which resulted in damage to the ship's hull starboard side".
Afifipour had informed on Friday that fire incidents in 2 oil tankers seem to have started by technical issues, adding that the results of early investigations show that the collision with an external object is just an unproved speculation yet.
In the first vessel, the fire broke out in the middle dock of the tanker and in the second vessel it happened in the engine house of the tanker and there is no proof that an external object has hit these 2 giant oil carriers, said Allah Morad Afifipour, General Director Hormuzgan Province's Ports and Maritime Organization (PMO), Tasnim news agency reported.
The local authority added that with the current collected pieces of evidence the two incidents seem to be mere incidents and there is nothing to prove that they have hit an external object or been attacked.
He added that both vessels are on international waters under flags from two countries, adding that it necessitates the flag owners to announce the cause of the incidents.