Syria
Damascus open to plans to resolve unrest if sovereignty respected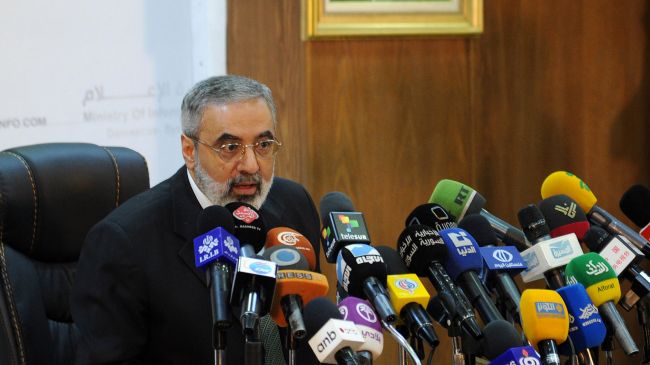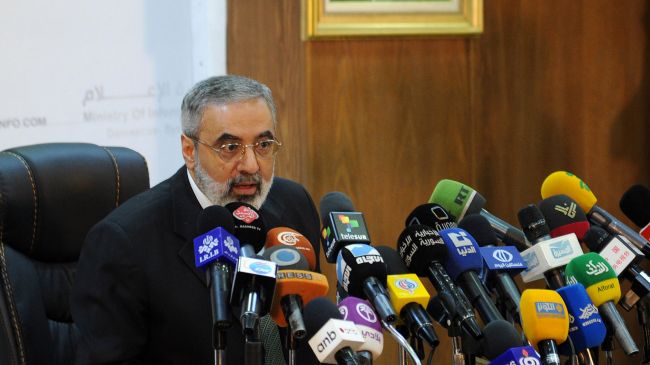 The Syrian government says it welcomes any initiative to end the months-long violence in the country, as long as the country's sovereignty is respected.
Speaking about efforts launched by the new UN-Arab League envoy Lakhdar Brahimi to implement a peace plan in Syria, Information Minister Omran al-Zoabi told journalists in Damascus on Monday that Damascus will be fully cooperative with Brahimi.
The Syrian minister also said that the success of Brahimi depends on states such as Turkey, Saudi Arabia and Qatar, who are helping armed anti-Syria groups, and not on the Damascus government.
"The conditions for success for Lakhdar Brahimi in his mission is for specific countries, Qatar, Saudi Arabia and Turkey, to announce their commitment to the six-point plan and completely stop sending weapons (to insurgents) and close borders to fighters and close fighter training camps," Zoabi said in the news conference.
"The ball is not in the Syrian court, the ball is in the Saudi, Qatari, Turkish, European and U.S. court," he said adding that right now an indirect foreign military intervention is underway in Syria.
According to the Syrian minister al-Qaeda and extremist Wahhabi groups are fighting alongside insurgents in Syria. He also accused certain Arab media outlets of fueling the unrest in Syrian.
Meanwhile, fierce clashes between government troops and foreign-backed insurgents continue across Syria. According to Syrian sources, the army has clashed with armed groups in Aleppo, Idlib, Homs, Hama and Dara'a, killing a number of terrorists.
Syria has been experiencing unrest since March 2011. Damascus says outlaws, saboteurs, and insurgents are behind the unrest, while the opposition accuses the security forces of killing protesters.
The Syrian government says that the chaos is being orchestrated from outside the country, and there are reports that a very large number of the armed militants are foreign nationals.