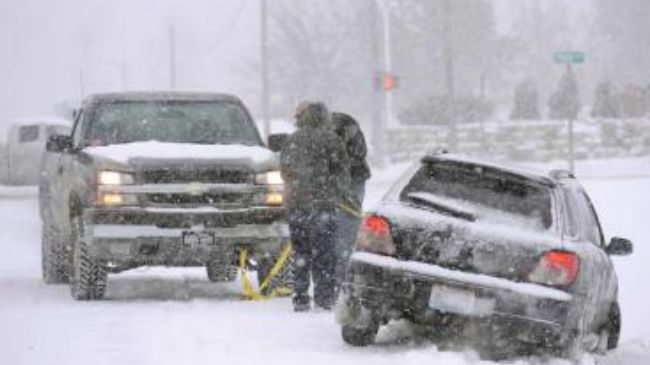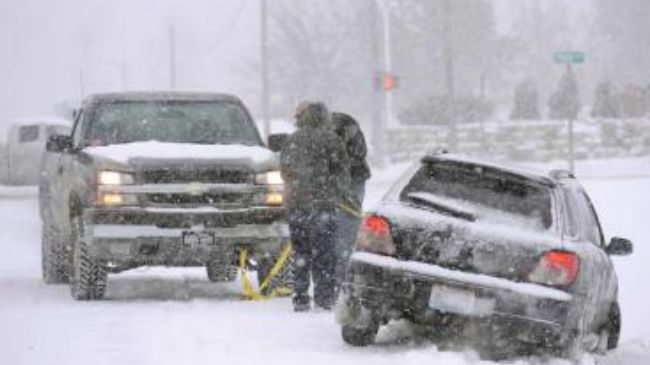 A deadly mix of weather patterns has claimed at least eight lives, officials said Sunday, while the severe weather has delayed thousands of US flights.
Total delays within, into or out of the United States Sunday were at 7,060 while millions prepared for Christmas travel, flightaware.com reported. Total cancellations within, into or out of the United States were at 686.
Four people were killed in two vehicle crashes in Kentucky — including one in which three people drowned when a car went into the Rolling Fork River near New Hope.
The Kentucky Emergency Management said a fifth person died due to flooding in Ballard County, but did not disclose details.
Two deaths occurred in Mississippi Saturday as severe weather damaged homes and knocked down trees, the Mississippi Emergency Management Agency reported.
A tornado was likely to blame for damage to homes and four overturned trucks in central Mississippi, the National Weather Service reported.
Another death Saturday, near Kansas City, Mo., was caused by a traffic crash, Chris Redline of the Missouri Department of Transportation confirmed.
"We had to close a lot of roads in southeast Missouri because of flooding," Redline said.
The Oklahoma Highway Patrol said a Hot Springs, Ark., man died Saturday afternoon when his van went off icy US 183 and overturned north of Seiling, KWTX.com reported.
A 16-year-old boy died early Saturday after his car crashed and overturned on US 64 near Tulsa, KWTX reported, and a woman was killed Friday night in a collision in northwest Oklahoma City.
Six inches of rain were reported in Junction, Ill., and 7 inches in Trumann, Ark., Saturday night.
Heavy rains and damaging winds were forecast for Monday in Georgia, South Carolina and up the East Coast, while above-average temperatures were expected in the mid-Atlantic states. Eight to 10 inches of snow was predicted for Iowa, Wisconsin and northwest Michigan, CNN said.
Far western and north central upper Michigan are expected to get snow into Monday night, with temperatures 15 to 25 degrees colder than normal Monday before moderating by Christmas Day. Kansas and southeast Nebraska are likely to get 3 to 6 inches of snow with freezing temperatures.
Freezing rain brought down power lines and caused slippery driving across New York, Accuweather.com said, and New York Gov. Andrew Cuomo declared states of emergency in Clinton, Essex, Franklin and St. Lawrence Counties.
The National Weather Service said New York City had a 70-degree temperature reading Sunday, breaking the previous record of 63 degrees for the date, set in 1998.
Power outages were also reported in Texas, Louisiana and Oklahoma Saturday night.
Ahead of the eastward-moving storms, the Mid-Atlantic region saw high temperatures Saturday. Washington hit 70 degrees, and Wilkes-Barre, Pa., reached 60 degrees, Accuweather.com reported, adding the odd mix of weather comes as 94 million people prepare to travel on the roads and in the skies for the Christmas holiday.
In Toronto, where more than 250,000 customers were without power Sunday, Mayor Rob Ford said the storm was one of the worst in the city's history.