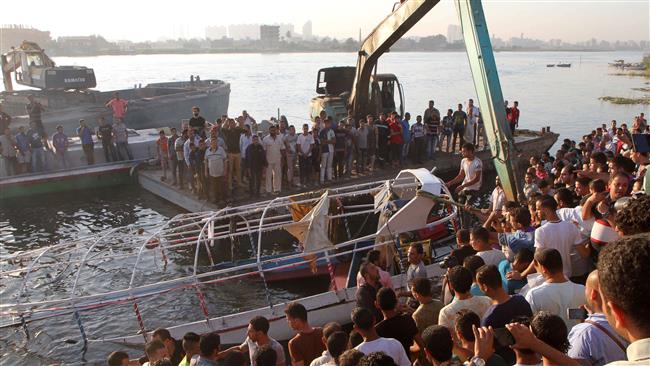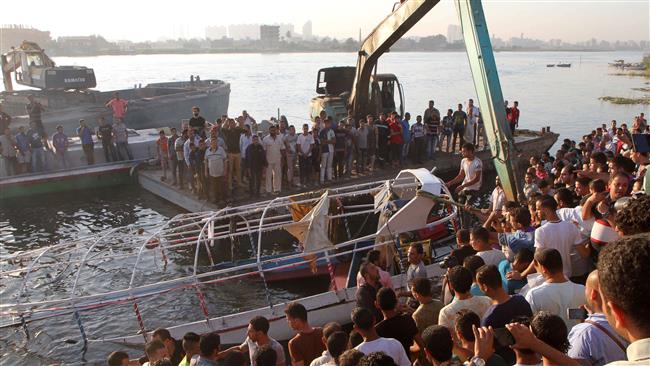 The Egyptian Health Ministry says the death toll from the recent collision of two boats on the Nile has climbed to more than two dozen as more bodies have been retrieved from the river, Press TV reports.
The ministry's spokesman Hossam Abdel-Ghaffar put the fatalities at 29 on Friday, saying that search efforts are still continuing.
Meanwhile, the civil defense department in Giza, located some 20 kilometers (12.4 miles) southwest of the capital, Cairo, has announced that its units are still looking for the bodies of 8 to 12 more missing people.
On Thursday, clashes broke out between the families of the missing passengers and security forces near the site of search operations. The families accused authorities of being negligent in the efforts to find their loved ones.
The protesters then attacked the governor of Giza, Khaled Zakaria al-Adly, as well as an unnamed local official, forcing them to leave the area.
The collision happened late Wednesday, when a cargo ship traveling down the Nile near Cairo collided with a boat carrying people celebrating at a wedding ceremony, causing the boat to capsize.
Witnesses said fishermen had been first on the scene at night to pull out corpses and survivors.
According to reports, the captains of both ships and their assistants survived the incident and are in police custody.
Boat accidents are not uncommon on the Nile. They are often blamed on rickety crafts or the loose enforcement of the law.
Last year, six people, including a child, lost their lives when their chartered boat collided with a bridge structure near downtown Cairo.