Asia-Pacific
Death toll from Japan volcano eruption reaches 43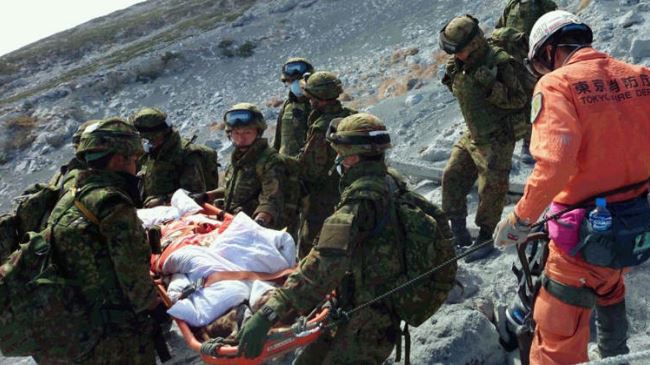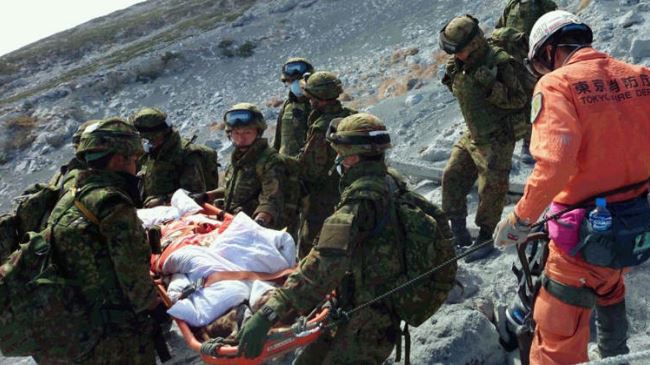 The death toll from a volcanic eruption in central Japan's Mount Ontake has spiked to 43, as seven more bodies have been found at the site of the incident.
"Rescuers found seven more people in cardiac arrest near the mountain top, and are now carrying them down," an official from Otaki village, located near Mount Ontake, said on Wednesday.
Poisonous gas and fears of further eruptions on Mount Ontake had suspended rescue efforts a day earlier. The bodies were recovered as search resumed early on Wednesday.
Police forces and firefighters have so far brought down 14 of the victims, but other bodies are still on the mountain.
Local authorities say some other people who were on top of the mountain at the time of the eruption have yet to be found.
"We believe there are more people still missing, but we don't know how many they are," an official at Nagano prefecture's crisis management office said.
At least 250 people were reportedly on Mount Ontake enjoying a fall season hiking venture when the volcano erupted on Saturday.
It remains unclear, however, how the victims have died, with possible factors cited as toxic gases, suffocating ash, and falling rocks, among other possible causes.
The last major eruption of Mount Ontake took place in 1979, during which it spewed over 200,000 tons of ash. The volcano also had a moderate eruption in March 2007.