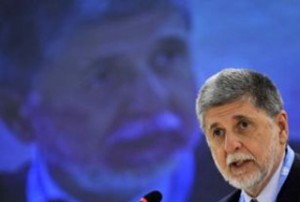 Brazilian Foreign Minister Celso Amorim says all the main demands of the 5+1 group have been addressed in the nuclear fuel swap declaration made by Iran, Turkey, and Brazil on Monday.
"If the 5+1 group member states, especially the USA, the UK, France, and Germany, read the joint statement carefully, they will realize all their main demands have been addressed in it," IRNA quoted Amorim as saying in Tehran on Monday.
China and Russia are the two other members of the 5+1 group.
On Monday, Iran, Turkey, and Brazil made a declaration on a draft proposal according to which Tehran would send the bulk of its 3.5 percent enriched uranium to Turkey in exchange for 20 percent enriched uranium, which would be used as fuel for the Tehran research reactor, which produces radioisotopes for cancer treatment.
Amorim also noted that the nuclear fuel swap could build trust and provide an opportunity to hold negotiations on other issues related to Iran's nuclear program.
The International Atomic Energy Agency (IAEA) will officially receive a letter explaining the proposal made in the declaration some time in the next seven days, Iranian Foreign Ministry Spokesman Ramin Mehmanparast said on Monday.
If the 5+1 group officially approves the proposal, the swap will be conducted within one month, he added.