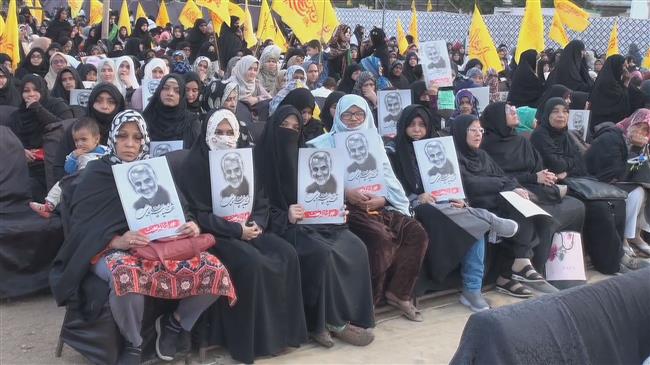 Thousands of Pakistani protesters once again express their anger as they mark the 40th day after the US murder of Iran's top general Qassem Soleimani, who is honored for his battle to restore security in the region.
People have gathered in downtown Karachi from across the country to commemorate General Qassem Soleimani and his companions, 40 days after their assassination by the US. People say general Soleimani played a major role in defeating Daesh in Iraq and Syria.
From toppling democratic governments across the globe to assassinating officials, the US has been blatantly violating international law and the latest of these violations took place on 3rd January at Baghdad airport, where they assassinated the top Iranian general.
Speakers at the rally warned about the Trump administration's new schemes for this region. They stressed the need for unity among the Muslim community. Participants criticized the Pakistani government for bowing to US and Saudi pressure for not attending the last month's unity conference in Malaysia.
The assassination of General Qassem Soleimani at Trump's orders once again indicates how the US takes global peace hostage through its assassinations and drone strikes across the world.