Europe
Demonstrators in Paris protest TAFTA proposal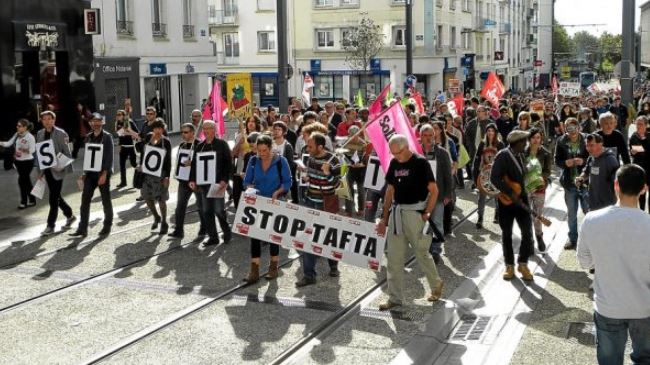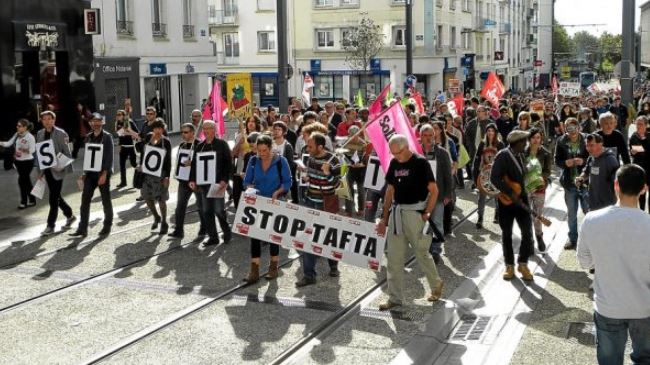 Demonstrators in Paris have protested against the proposal for a Transatlantic Free Trade Area, known as TAFTA, which covers free trade between Europe and North America, Press TV reports.
The protest in the French capital on Saturday was organized by Stop Tafta group.
"This treaty is only on the table due to major pressures from corporate lobbies which want to impose a society that is dedicated to serving their interests. This trend counters our democratic values, so it is vital that we continue to mobilize against it," a demonstrator said.
Washington has been the most vocal proponent of the treaty, as American corporations have greatly benefited from a similar accord with Mexico and Canada, known as the North American Free Trade Agreement (NAFTA), which came into effect on January 1, 1994.
NAFTA led to a mass outsourcing of jobs towards cheaper labor costs in Mexico, which in turn resulted in mass closures of Mexican farms and the degradation of working conditions.
"I don't believe in this fairy tale that the market is concerned about our collective well-being," another demonstrator said, adding that TAFTA poses major risks to consumer protection on one hand and the rights of workers on the other.
The proposal has been a focal point of discussion since the 1990s, and the United States and the European Union have been negotiating an agreement since 2013.
Experts believe that TAFTA's success is far from guaranteed, as all the 28 members of the European Union and European Parliament would have to sign the treaty.
There has reportedly been a major lack of media coverage of the anti-TAFTA movement in both the English- and French-language outlets.