Iran
Deputy DM: Iran's Military Progress Untouched by Sanctions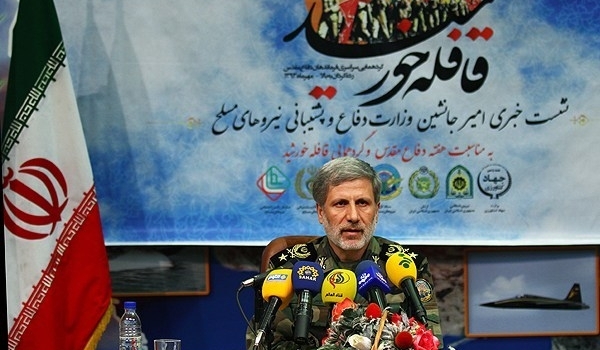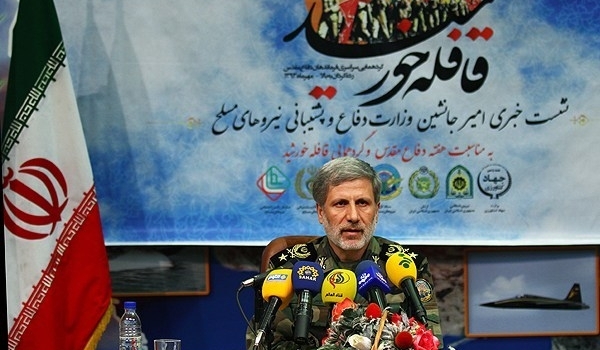 Deputy Defense Minister Brigadier General Amir Hatami said the West-led embargoes have failed to block Iran's progress in building advanced defense equipment and military tools, adding that Iran plans to build a dual-cockpit fighter jet in the near future.
"We build whatever we can in the defensive field and our capabilities are not affected by sanctions and limitations," Hatami said in a press conference in Tehran on Sunday on the occasion of the start of the Sacred Defense Week, commemorating Iranians' sacrifices during the 8 years of the Iraqi imposed war on Iran in the 1980s.
He announced that a number of aerial, missile and military advancements will be unveiled in the Sacred Defense Week which will start on Monday.
Hatami also said that the Air Force plans to build a dual-cockpit Saeqeh (Thunderbolt) fighter jet in the next Iranian year (which will start on March 21, 2015). Iran built the single-cockpit version of the same home-made fighter jet in 2008.
Gen. Hatami said another home-made fighter jet named Qaher is also under construction.
A few months after the production of Saeqeh, Iran unveiled a second type of its home-made fighter jets, named Azarakhsh (Lightening). Several squadrons of both Iran-made fighter jets have so far joined the operational fleet of the Islamic Republic of Iran's Air Force.
Lieutenant Commander of the Iranian Air Force Brigadier General Alireza Barkhor had announced in February that the new model of Iran's home-made Saeqeh jet fighter would be unveiled in the coming months.
"We will fly the new model of Iran's new Saeqeh fighter very soon," Brigadier General Barkhor said.
The commander said the new generation of Saeqeh is a dual-cockpit fighter jet, adding that the aircraft will be officially unveiled in the next Iranian year.
Tehran launched an arms development program during the 1980-88 Iraqi imposed war on Iran to compensate for a US weapons embargo. Since 1992, Iran has produced its own tanks, armored personnel carriers, missiles and even fighter planes.
Yet, Tehran has always insisted that its arms development programs are for defensive purposes only.
Iranian Air Force Commander Brigadier General Hassan Shah Safi announced in February that his forces had focused all their power and energy on building fighter jets as they believed that future wars were fought and won in the sky.
"It is obvious that future wars will be in the sky with massive air and missile raids; therefore, the Air Force has adopted a new approach and focused all its internal power on building fighter jets in a self-driven, but organized way," Shah Safi said, addressing foreign states' military attachés in Iran.
He said that the Iranian Air Force's efforts have already resulted in the building of Saeqeh fighter jets.
Yet, the Air Force commander reiterated the defensive doctrine of the Islamic Republic, saying Tehran has the narrowest military budget among the regional countries.
Shah Safi blasted the US officials for threatening Iran militarily, and said, "We are sure that the Iranian Armed Forces' military capability has discouraged the enemies from even thinking of invasion."