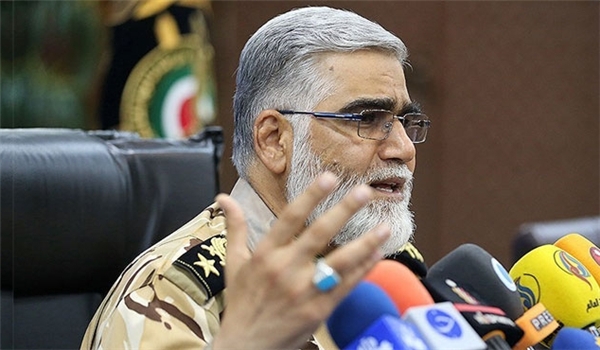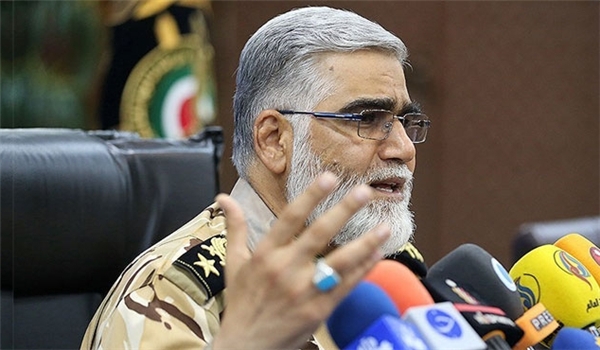 Lieutenant Commander of the Iranian Army Brigadier General Ahmad Reza Pourdastan underlined the country's preparedness to give a crushing response to any aggression, and said the Armed Forces have thwarted plots by Israeli Prime Minister Benjamin Netanyahu to use terrorist groups as security threats against Iran.
"The first threat is the semi-hard security threats and the terrorist and Takfiri groups are its actors," General Pourdastan said, addressing a ceremony in Tehran on Monday.
He warned of Netanhayu's plots and strategy to keep terrorist groups in regions near the Iranian borders, and said all these threats have been eliminated by the Iranian Armed Forces and "we are now in control of the situation".
General Pourdastan underscored that the Iranian Armed Forces are fully prepared to give a crushing response to any threats.
In relevant remarks earlier this month, Chief of Staff of the Iranian Armed Forces Major General Mohammad Hossein Baqeri underlined that the country's Armed Forces are prepared to give a rigid response to any possible aggressive act by the enemies.
"We are ready to take speedy reaction against enemy's possible threats and deepening intelligence superiority over enemy's movements is our top priority," General Baqeri said.
He reiterated that Iran's missile strength is admirable.
Also, in February, General Pourdastan underlined that the country's Armed Forces are always ready to give a crushing response to the aggressors, adding that nothing can surprise them.
"Given the preparedness of the Army, the Islamic Revolution Guards Corps (IRGC) and other Armed Forces, they cannot be surprised in any conditions and if any threat emerges, certainly the threatening force will regret its action," General Pourdastan told reporters in the Southern province of Khuzestan.
Referring to different drills held and underway in Iran by the Iranian Armed Forces, he said, "The objective of such wargames is warning those who have the illusion of aggression against Iran."